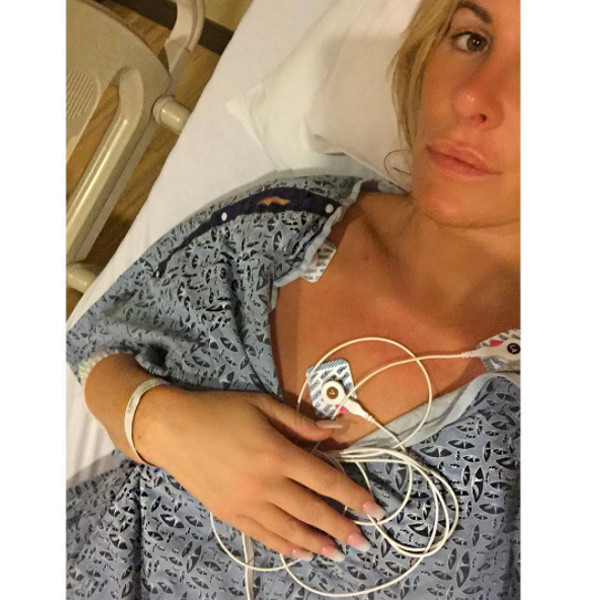 Instagram
Kim Zolciak is on the mend. 
The 37-year-old Don't Be Tardy star, who is currently competing on season 21 of Dancing With the Stars, took to Instagram this morning to reveal she suffered a "mini stroke" on Wednesday and shared a pic of herself lying in a hospital bed. 
"The last 24hrs have been whirlwind! I landed yesterday morning from LAX (took the red eye right after DWTS) I got home and within minutes suffered a TIA (mini stroke)," the mother of six wrote on Instagram. "The left side of my body went completely numb and my speech was gone. Extremely grateful for @sladeosborne @briellebiermann @nikitpressley @kroybiermann for quick reactions! I have 100%of my feeling back THANK GOD. Still in the hospital but I just know I'm getting released today! #CrazyAgeDoesntMatter" 
While Zolciak's future on Dancing With the Stars is still unclear as the former Real Housewives of Atlanta star recovers from her health scare, a source tells E! News that the reality star took a red-eye flight back to Atlanta after Tuesday night's show, went home and wasn't feeling well, so she and her partner Tony Dovolani didn't rehearse. 
Later, Kroy Biermann's wife checked herself into the hospital, the source reveals, adding that it looks like she will be released today. The insider also says that Kim and Tony are scheduled to rehearse at noon, but as of now, that is up in the air. 
We're also told that Kim has not yet been released. 
Meanwhile, Zolciak's hairstylist Niki Toney-Pressley (whom she thanked in her Instagram post) took to the photo-sharing site this morning to regram the shot of Kim and said she's "feeling better," but added that it was "one of the scariest days ever." 
Related:
Kim Zolciak-Biermann Grades Performance on "DWTS"
No word yet whether Zolciak will continue competing on Dancing With the Stars. 
During the first week, Kim received a pretty low score—a total of 12 out of 30—and shed a few tears after her performance. Last week, however, Zolciak rebounded with a total of 19 out of 30. 
"She worked really hard this week. We went back after last week and were like, 'We're better than fours,'" Tony told E! News after the show. "We've got to put some work into it. We had a lot of one. One thing that's for sure, yes, we worked harder, but we actually had more fun."
Zolciak added: "I think letting go has been a struggle and I just danced tonight like nobody was watching." 
Feel better, Kim! 
—Reporting by Beth Sobol