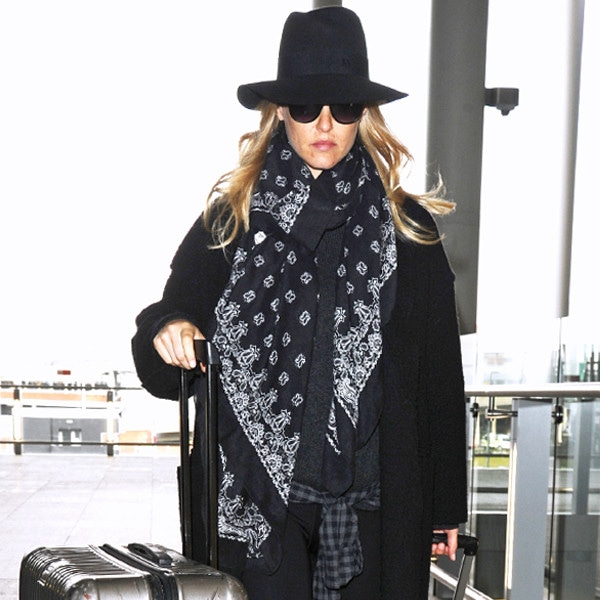 FameFlynetUK/FAMEFLYNET PICTURES
Sorry guys, this babe is officially off the market.
Israeli supermodel Bar Refaeli married her businessman fiancé Adi Ezra on Thursday, E! News has confirmed.
The two tied the knot in a beautiful, traditional Jewish and rustic outdoor wedding ceremony in front of more than 300 family members and friends, including Israeli celebs, at the Carmel Forest Spa Resort near Haifa, Israel. Rabbi Yitzchak Dovid Grossman, a famous rabbi, married the couple.
"The ceremony was so magical, filled with close friends and family and a few notable names and models," a source told E! News. "The locations was stunning. Bar couldn't be happier!"
Refaeli, 30, wore a stunning Chloé bridal gown, E! News has learned.Famous Israeli singer, Shlomi Shabbat, who is also a judge on The Voice Israel, performed his song "The Beginning of the World" as the bride walked down the aisle to the chuppah to meet her groom, the Israeli websites Mako and Walla! reported.
As Ezra stepped on a glass to seal the union, Bruno Mars' 2010 song "Marry Me" was played. Refaeli and later changed into another Chloé dress for the reception, which featured a giant, draped tent lit up by purple spotlights and adorned with strings of miniature lights.
While the ceremony and party seemed to go on seamlessly, there was some drama leading up to the nuptials, which were marked by heavy security. There was constant back and forth between officials on whether the skies above the affair would be open to air traffic, and the arguing continued up until the day before.
The request to close the airspace above their wedding venue was originally granted by aviation authorities last week. However, Transportation Minister Yisrael Katz issued an ultimatum to the head of the authority—remove all limitations on flight, or lose your job. Yikes! In the end, only authorized aircraft were allowed to fly. A hot air balloon, a helicopter and several drones were spotted, while one of the latter, used illegally by a photographer, was grounded, Mako reported.
Total estimated cost of Refaeli and Ezra's wedding? At least $330,000, according to the website.
Refaeli took to her Instagram to share some of the festivities that took place prior to their big day, while also showing off her enviable bod. Wearing a thong bottom and long-sleeve tropical pattern top, Refaeli enjoyed some fun in the sun by the pool while wearing a white baseball cap that had a veil attached for what looked to be another bachelorette party.ft;">"This time tomorrow... I'll be dancing in white," she wrote on one photo. Another showed her diving head first with her head gear still on!
Refaeli also celebrated her last days of being single last month, kicking off the party in the Maldives, relaxing at the waterfront tropical paradise and soaking up the sun. While no male strippers or raunchy party favors were spotted, Refaeli did share a fun photo on Instagram of the party in full swing. 
This marks Refaeli's second marriage. The supermodel was in her late teens when she wed Arik Weinstein in 2003 and they divorced after two years. Refaeli later dated Leonardo DiCaprio on and off for several years before they split in 2011.
Back in March, E! News confirmed Refaeli and Ezra, the heir to Israeli food importing company Neto ME Holdings, Ltd., were engaged after about a year of dating. Additionally, an insider previously told E! News that the two met through mutual friends, and (added bonus!) Refaeli's family loves Ezra and appreciates how he understands her values. Bar has always wanted to raise her kids Jewish, and the two lovebirds are eager to start a family of their own.
Cheers to the newlyweds!
Watch:
Bar Refaeli Rocks Sexy Bed Head Hair