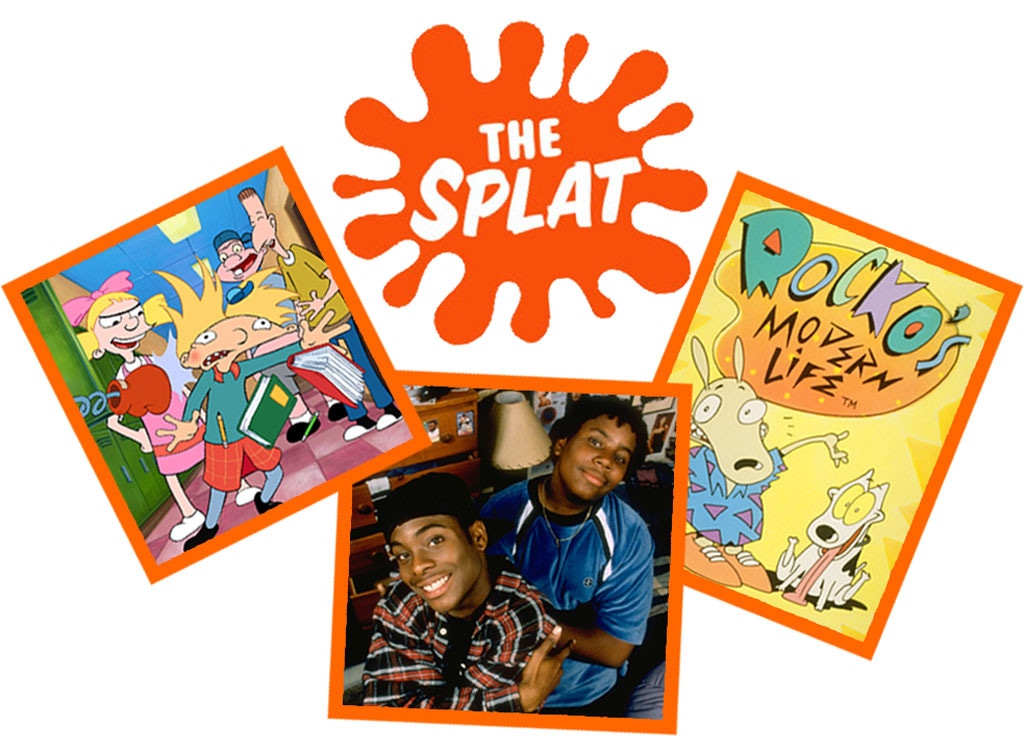 Nickelodeon
Nickelodeon's top-secret '90s-themed project has finally been unveiled! The Splat, which the network teased via a mysterious (but official) Twitter account last week, is a brand new multi-platform programming block for Millenials who want to relive their favorite '90s TV shows from childhood.
The network announced today that beginning on Monday, Oct. 5, The Splat will broadcast an eight-hour nightly programming block on TeenNick filled with shows such as Kenan & Kel, Rugrats, Hey Arnold! and many more beloved shows.
There will also be a dedicated fan-driven website called TheSplat.com, a branded emoji keybord (now you can spook your friends with Aaahh!!! Real Monsters emojis in your texts), and active social media accounts on pretty much every site, from the aforementioned Twitter account to Pinterest and everything in between.
And who do you have to thank for this genius throwback? Its millennial employees who formed a brainstorming group to bring you all of your favorite former after-school programming. "We have been listening closely to our first generation of Nick kids that are craving the great characters and shows they grew up with watching Nickelodeon in the '90s," said Cyma Zarghami, president of Viacom Kids and Family Group, in a press release. "We designed The Splat with fans and their requests in mind, which means we're bringing together these beloved series and a high level of digital engagement to give fans a retro media experience they can't get anywhere else."
The Splat TV block will feature themed weeks and monthly programming stunts, including First Time for Everything in its inaugural week (which will show the first two episodes from several fan favorite series), Rugrats Reptar Takeover the week of Oct. 12 (the best Rugrats episodes featuring Reptar, duh) and more.
You can also look forward to original promos and interstitials, and series including All That, Angry Beavers, Are You Afraid of the Dark, CatDog, Clarissa Explains It All, Hey Dude, Ren & Stimpy, Legends of the Hidden Temple, Rocko's Modern Life, Salute Your Shorts and The Wild Thornberrys.
Kel Mitchell, who reunited with his All That and Kenan & Kel costar on The Tonight Show last night said he's looking forward to watching some classics. "Definitely Ren & Stimpy. I love Ren & Stimpy. They would go pretty bananas. They were like the cartoon version of me and Kenan, so I like that. Of course Hey Arnold because Arnold was always getting into—on the block, you never knew what was going to happen on that block," he told E! News.
He's also excited for CatDog. "CatDog, I remember when they introduced CatDog. That's the fun thing for Kenan and I too—we remember when all these cartoons came out and talking about them before the world got to see it. I remember we saw CatDog and we were like, 'What is this? A cat and a dog mixed together?! This is crazy.' So definitely would love to see that again. It brings a lot of nostalgia for us too…I'll definitely be watching Splat as well," he said.
Are you looking forward to The Splat? What shows do you most want to see? Share your suggestions in the comments below!
Watch:
Melissa Joan Hart's On-Set Romance