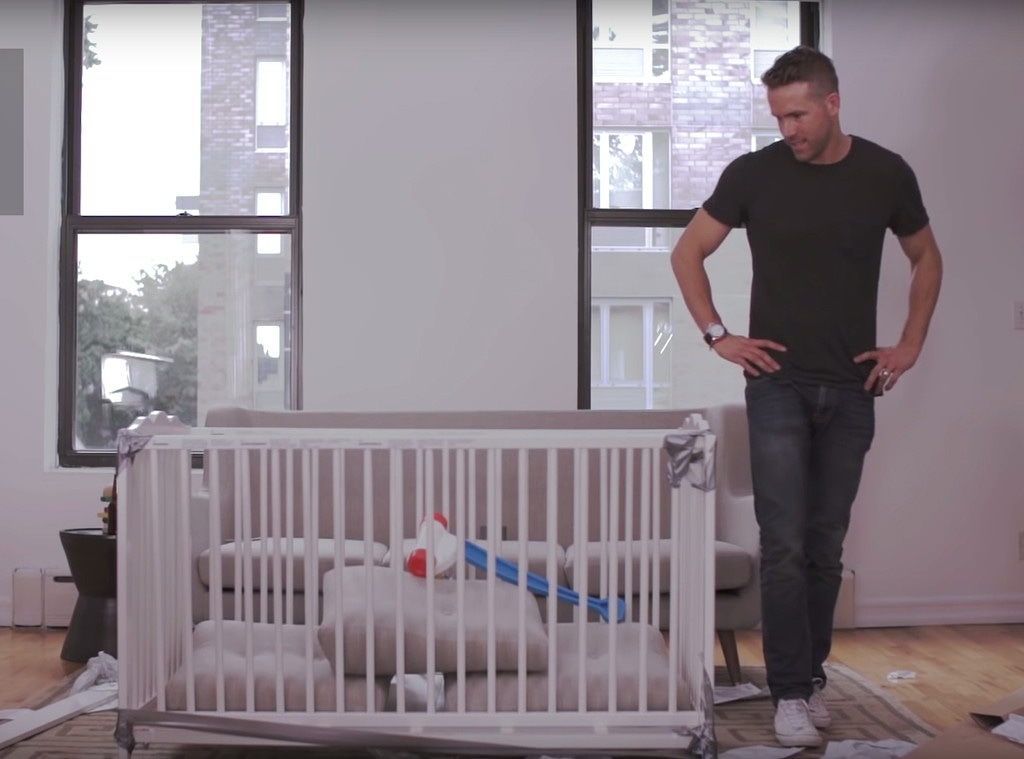 YouTube
Ryan Reynolds is just like us…even he can't figure out how to build impossible IKEA furniture.
Blake Lively's hunky hubby and father to 9-month-old baby James is the cover boy for the October 2015 issue of GQ for which he shot a hilarious (and hot) video attempting to build a baby crib.
The clip begins with Reynolds—who looks sexy in a heather gray t-shirt, jeans and white converse tennis shoes—feeling pretty confident about the whole thing, gazing over the directions and shrugging them off. "Easy!" he exclaims.
However, just a few moments later, he's on the phone with an IKEA employee asking for help.
"Oh, hi there! I'm calling about the Hensvik baby crib," he says while speaking on the phone. "No, no, no! There's no problem with it. I think the biggest issue I'm having right now is that the crib didn't come assembled. There's just an enormous amount of hardware that's come with this unit and I gotta be honest with you I'm having a real hard time putting this thing together."
As he continues to attempt to sort through the"100,000 pieces" of the crib, he tells the representative on the phone that he's taking a "slow descent into alcoholism."
At one point Reynolds can't help but mumble, "IKEA…Swedish for f—k you!"
Eventually, he decides beer and duct tape will get him through it, putting the crib together in a way we're positive Lively wouldn't approve.
Meanwhile, Reynolds opened up in GQ about the other facets of fatherhood.
"The one piece of advice I would say is: Don't listen to any advice," he says, "because there's nothing you can do to prepare for it."
One of the most unpredictable things he's had to face most recently was finding out a lifelong friend had been trying to sell photos of baby James to the media.
"A guy that I'd known for my whole life, one of my closest friends growing up, he had been shopping pictures of my baby around," he explains. "I kind of got in front of it, which is good. But it was a slightly dark period. A bad couple of weeks."
Sadly, Reynolds and said friend no longer speak.
Watch:
Ryan Reynolds Doesn't Want Daughter James to Say What?!