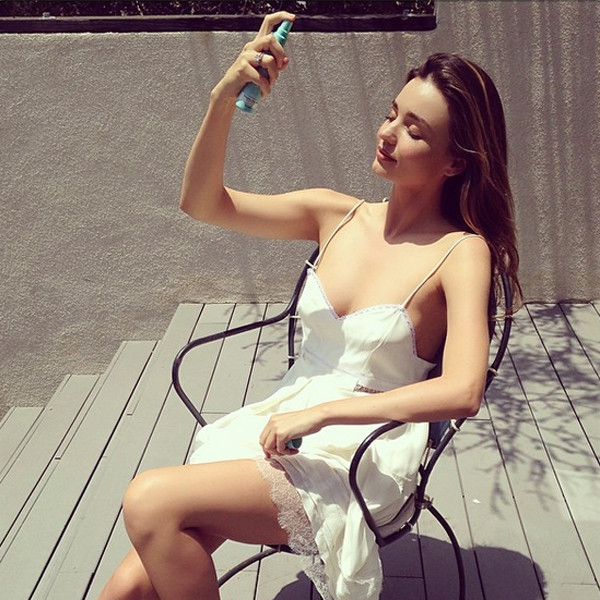 Instagram
There's not a quality face mist a fresh-faced supermodel or supple-skin celeb didn't like. Miranda Kerr's Instagram is a testament to this (though the beauty prefers own Kora Organics selects).
Are face mists the secret to glowing celebrity-status skin? No, but they can help create a hydrated base, which is the first step to maintaining a soft visage. In fact, you're sure find a bottle or two on many the beauty editors' desk. Face mists can also help your other beauty products better absorb into the skin.
"Preventing the upper layers of the skin from dehydrating allows product to fully penetrate the skin, and applying product to damp skin helps the skin retain its moisture levels," said celeb dermatologist Dr. Harold Lancer. "Face mists are a great tool to enhance a product regimen."
These lightweight formulas may seem too gentle to make a difference, but it's really about maintaining hydration. A light spritz is the perfect pick-me-up and won't mess up your makeup.
"Facial mists typically contain lower levels of extracts, skin conditioning agents and peptides than most facial moisturizers, so they are safe to use several times throughout the day," said celeb aesthetician Kate Somerville. "Mists are convenient to us on-the-go, while traveling and anytime your skin feels dry." It's no wonder celebs love them.
But with so many options in the market, which is best for you for you? Apparently, you don't need to get too fancy.
"Aloe vera, purified water and essential oils are really the only things needed in a high-quality face mist," advised Dr. Lancer. Both skin experts recommended avoiding any alcohol-based formulas, which can dry out or irritate your skin.
That said, "no one skin type needs a face mask more than others—but certainly different formulas benefit different skin types," he noted.
To find out which formula works best for you, click through here.