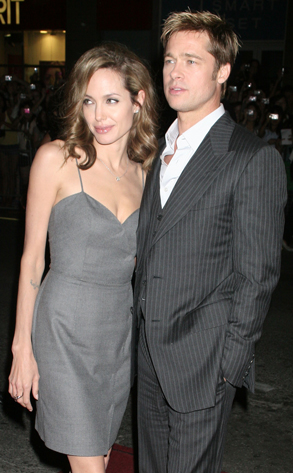 Dan Herrick/KPA/ZUMAPress.com
Dear Ted:
I'm just fed up with the whole Jen vs. Angie issue. Jen has a hot, young guy, plus, she doesn't seem to care what Brad and Angie do. What is Angie and Brad's problem? By the way, I'm a lesbian. They won't get married until we do? Please, we could care less if they do. Where were they years ago when they were married to other people? It's just another of their publicity stunts.
—amethyistbella
Dear PR Stunt Man and Wife:
One among many. Or a good excuse to stay legally single.
Dear Ted:
Is Hollywood so boring lately that nearly every article has to be about Rob Pattinson? Or is there a reason for all the sudden heavy publicity? By the way, would have voted a big no on Prop 8 if I lived out your way.
—Lynn, Conn.
Dear Twilight Overdose:
He's the flavor of the month, and a delicious one at that. Let us gobble him up for a bit, 'K? We so know there's more scandal to this creatively coiffed gent than meets his bedroom eyes. Breaking in seconds...
Dear Ted:
Did you by any chance see the storyline on The Starter Wife where the bipolar, closeted action star tries to come out (when he's off his meds) and is stopped by his lover who traps him in the bathroom? Is this anything close to the Toothy Tile situation?
—scatkinson