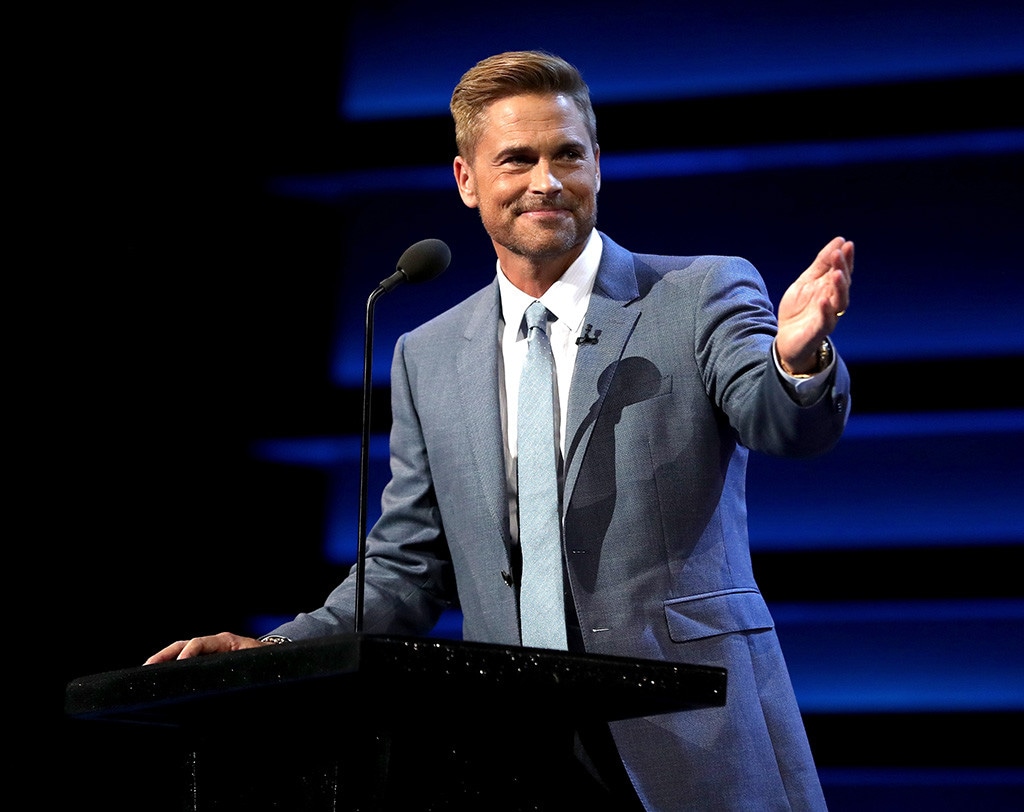 Christopher Polk/Getty Images
Rob Lowe is reflecting on his TV career as he prepares to return to the small screen with the new comedy series, The Grinder.
The 51-year-old actor's most recent series, Parks and Recreation, ended its seven-season run earlier this year. He starred on the sitcom after famously leaving Brothers & Sisters and The West Wing. In an interview with GQ magazine, which features him on the cover of its October 2015 issue, he talks about the departures from the popular dramas, which had boosted his acting career following years of personal turmoil, which included a sex tape scandal.
"I left Brothers & Sisters when they ran out of storytelling runway," he told the magazine. "I mean, there are so many family dinners you can do. I eventually had to go to them and say, 'Look, I don't do spatula work. I don't do scenes with oven mitts. If you're looking for that, you've got the wrong guy. I'm not doing scenes about casseroles. It's not happening.'"
Christopher Polk/Getty Images
In 2010, when his exit was announced, a source had told E! News that Lowe was departing Brothers & Sisters because he felt he was being underutilized in the ABC family series and had asked to leave the show, adding that the move was amicable.
He exited The West Wing following a salary dispute after playing Sam Seaborn regularly for four seasons.
"In the end, I could have lived with the fact that everyone on the show had gotten a raise but me—if I felt that we really knew what the story lines were going to be," he told GQ, adding, "It's all good in the hood. I mean, I'm so blessed to have been part of something great. The last thing anybody wants to hear is that John Lennon hated Paul McCartney. They just want to hear 'Hey Jude.'"
Lowe rose the fame in the '80s as a teen idol and a member of Hollywood's "Brat Pack," along with the likes of Molly Ringwald, Demi Moore, Judd Nelson and Emilio Estevez. He starred with the latter three in the hit 1985 movie St. Elmo's Fire. Lowe's career stalled a bit in the late '80s, after a leaked tape showed him having sex with two women, including a 16-year-old girl, in Georgia, where she was within the age of consent. The actor mentions the scandal in his autobiography, Stories I Only Tell My Friends: An Autobiography. 
He later underwent rehab for sex and alcohol addiction. He told GQ he's been sober for 26 years.
Lowe continued acting, landing the role of the villain Benjamin Oliver in the cult 1992 film Wayne's World. He later appeared in the miniseries The Stand and his big comeback came in 1999, when he started his work on The West Wing.
He busted out his comedy chops as Chris Traeger on Parks and Recreation and earlier this year, in a massive ad campaign—a series of DirecTV commercials in which he mocked a loser version of himself.
"I've been fortunate that I've always, always, always worked," Lowe told GQ. "Even after the sex tape was made public, it was like: You're still a professional baseball player, but you're playing for Double or Triple A. I lost the role in Titanic that Billy Zane got. But I was never banned from the game."
You can catch Lowe and fellow '80s star Fred Savage in The Grinder, which premieres on Sept. 29 on FOX.
Watch:
Rob Lowe on Working With Fred Savage