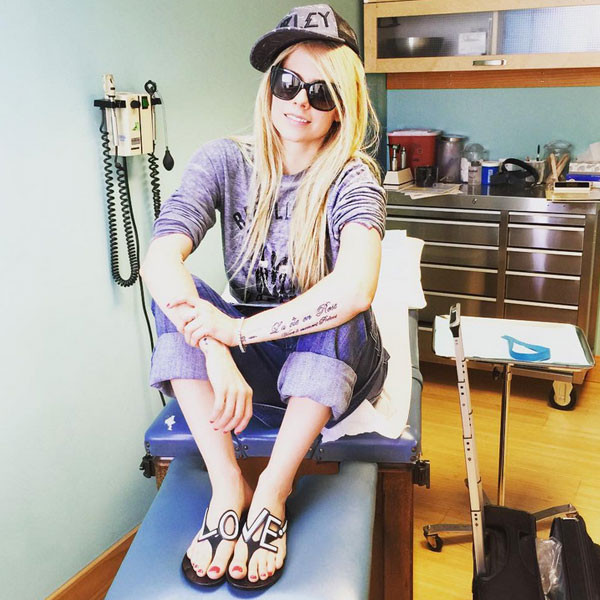 Instagram
Avril Lavigne is a fighter.
The singer has been open about her battle with Lyme disease, and recently took to Instagram to share an update with fans about her ongoing journey to recovery.
"On my way to good health #TakingCareOfMyself #FuckLymeDisease," Lavigne wrote with a photo that showed 13 vials of her blood (eek!).
Lavigne also shared another snapshot of herself waiting to get checked up by the doctor, with the caption, "This journey continues ..... Just reach up, don't give up until you've touch the sky ..... We were all meant to fly .... #DrOfficePhotoShoot @Hurley @amusesociety."
Despite having to undergo such an unfortunate event, the blue-eyed beauty seemed to be in good spirits, flashing a smile for the camera while strutting her usual, casual gear and a pair of flip-flops that spelled out "Love."
One noticeably missing item in her wardrobe was her huge diamond sparkler from now-soon-to-be ex-hubby Chad Kroeger.
The singers announced on Instagram earlier this month that they've decided to separate after two years of marriage.
"It is with a heavy heart that Chad and I announce our separation today," the 30-year-old crooner wrote alongside a pic from their wedding day.
"Through not only the marriage, but the music as well, we've created many unforgettable moments. We are still and forever will be, the best of friends, and will always care deeply for each other. To all our family, friends and fans, thank you sincerely for the support."
After staying away from the spotlight for months, Lavigne resurfaced in April to reveal that she was battling the tick-borne illness.
"I could barely eat, and when we went to the pool, I had to leave and go lie in bed," she recalled, adding that she'd felt lethargic and lightheaded for a while. "My friends asked, 'What's wrong?' I didn't know."
Shortly after, Lavigne was diagnosed with a severe case of Lyme disease. "I had no idea a bug bite could do this," she says. "I was bedridden for five months."
The "Girlfriend" singer believes a tick bit her sometime in the spring of 2014.