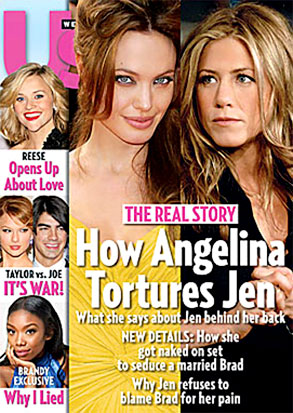 Us Weekly
Another week, another slew of magazine covers about that Brangelina-Jen thing. Why does the media keep harping on it? I'm bored.
—Alina, New York
No, you're not. How do I know? Because readers like you cannot stop buying magazines with BrangelAniston on the cover. Jennifer Aniston, that poor, dumped cheerleader, was the top-selling cover face of the first half of 2007, according to Forbes. And since then she has continued to make the media plenty of cash every time she opens her reedy little nonexistent lips.
"Jennifer Aniston's first tell-all, after her divorce, remains Vanity Fair's best-selling issue ever," says Matt Donnelly, a wayward B!tchling of mine who has since fled to the website Celebuzz.com. And according to former Life & Style editor Mark Pasetsky, now the head of CoverAwards.com, "This story is still a solid sell for celebrity weeklies."
As for what stygian force continues to pin us to this story, it should be obvious...