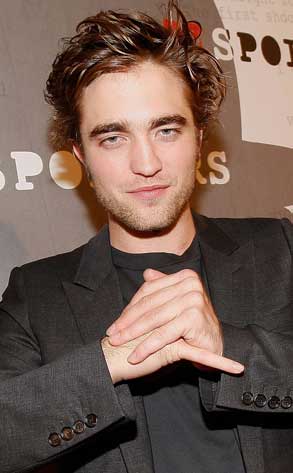 Chris Polk/Getty Images
Dear Ted:
Is it me or does this Robert Pattinson guy look like he is stoned on the good green or what? His eyes always look like they could close at any minute, and they are quite bloodshot. I may get accosted by an angry mob for saying this, seeing as how crazy the ladies are going for this cat, but he looks like a good old-fashioned pothead to me. Not that there is anything wrong with that!
—dgarber1115
Dear Toke Bloke:
Wouldn't be a far reach, considering how he likes to prepare for auditions.
Dear Ted:
So now that Hef is not with Bridget, Kendra or Holly, why are they in the news so much? The fact that both Kendra and Holly moved on so quickly, especially Holly, who claimed that Hef was her "soul mate," just shows how fake the whole thing was. I never believed she was honestly attracted to him, let alone in love with him, and now she's going to get attention for Criss Angel? Seriously? Was she just sticking around Hef till she had enough of her own money and didn't need him anymore? I think I already know the answer to that, but please enlighten me!
—Amy, Calif.
Dear Pondering Playmates:
Not like Hef minded being used. Get real.
Dear Ted:
Do you have any information on Nick Lachey and Vanessa Minnillo?
—tpukalo
Dear Napping With Nick:
Yes, info on them beats sleeping pills.
Dear Ted:
Enough already about Prop 8. If I have to read one more story with you asking a celeb what they think about Prop 8 (like do you really think they're going to disagree with you?) I'm going to puke. I can see why you feel very strongly about this subject but most people come here to read something light and fluffy. Is E! paying you to blog about your political convictions or about celeb gossip?
—kappylie