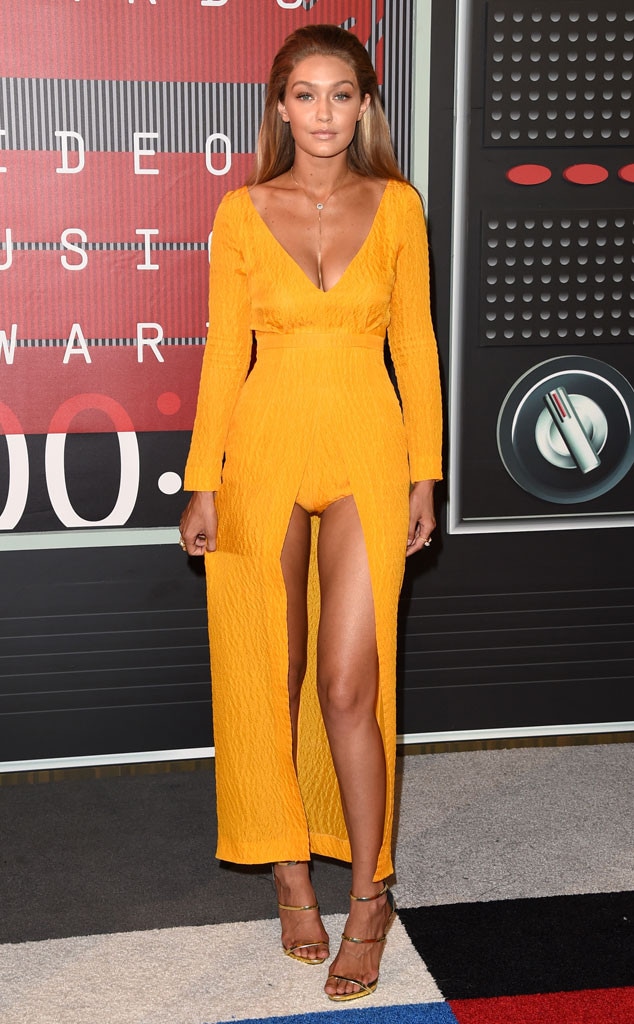 Getty Images
We know that looking at Gigi Hadid can be a little annoying. After all, she's so perfect. Whether she's done up or absolutely au naturel, she's friggin' gorgeous. Sigh.
Well, we have more news for you. Gigi isn't just a sight for sore eyes. She's also pretty freakin' cool. Yep, like we said, perfect.
You might have already caught on to that fact, but the blond supermodel made it that much more apparent today when she held a Periscope Q&A with fans, answering all kinds of questions ranging from her favorite Taylor Swift song to her breakfast food of choice to her first kiss.
Here are 18 interesting things we learned about Gigi Hadid:
Thomas Concordia/WireImage for STYLE360
1. Her Favorite Swift Song: As a Swifty and the singer's bestie, there's obviously a song off 1989 that's her fave, right? Right. And she tells fans it's "Clean."
2. Her First Crush: Hadid says her first concert was either Ashlee Simpson or Avril Lavigne, but it's a certain purple dinosaur who stole her heart. She also saw Barney live and says he was her first crush. Her friend in the room during the Q&A said, "Gigi, he is a dinosaur." Hadid responded, "He is better than all the guys in the world." LOL!
3. What She'd Do If She Fell on the Runway: "I am so happy when I get off the runway if I didn't fall," she explains, but adds, "Knowing me, I would be so traumatized and want to cry..but I would get up yell something stupid then cry backstage."
4. Her First Kiss: It was a memorable one. Gigi shares that it was with a guy from Santa Barbara who she went to middle school with, and adds that he had brace mouth.
5. Her Eyebrows Are Naturally Amazing: A fan asked for Gigi's "eyebrow woman"' contact info, and the model confessed, "I actually don't touch my eyebrows..I don't shape them."
6. She Names Her Pimples: Gigi currently has a zit on her chin, and she named it "Jupiter."
7. Her Favorite Breakfast Food Is Perfect: On set, if she has a choice, Gigi eats a bacon, egg and cheese burrito with Tapatio sauce and an orange juice and a coffee. Yes, girl. Yes.
Frazer Harrison/Getty Images for NYFW: The Shows
8. She Approves of Her Sister's Boyfriend: When asked about Bella Hadid's beau, The Weeknd, she tells fans, "Yes. I love him. He is an awesome human."
9. Her Favorite Lipstick: Nude Embrace by Maybelline
10. Her Favorite Piece of Clothing: Gigi loves her black leggings and says she wears them 75 percent of her life.
11. Would She Do YouTube With Bestie Kendall Jenner?: "If we could live together and work together and be together every single day then yes," she explains. "Seventy-five percent would be us having dance parties together. Kendall is a pretty good dance and I am the worst dancer in the world."
12. She Tries to Ignore the Haters: "I am a human being, so it sucks sometimes," she confesses.
13. She's Down for Some McDonalds: Gigi shared a story about a time she and her ex were in Paris and went out for a fancy dinner. The plate was small and the food was weird, so they walked from the fancy restaurant to a McDonalds and had dinner there instead.
14. She Creeps on Twitter: Gigi admits she looks at fans' Twitter pages. She likes to learn what is happening through her fans, "It's so funny."
15. Would She Get a Tattoo?: "Maybe," Hadid says, "but every single time I want one, I draw on myself for a month and by the end of the month I don't want it anymore."
16. She Accidentally Grabbed Joe Jonas' Brother's Butt Once: They walked into a crowded restaurant and lighting wasn't that good and she thought Joe was next to her, "and I went to grab his butt to move him along and it was Frankie [Jonas]," she says. "I love Frank. We are homies, but that was another level of bonding for us."
17. Update on Mom Yolanda Foster: "She just had surgery...she is doing better," Hadid, who was touched by the question, responded. "She is having good days...sometimes she is off."
18. Most Embarrassing Day: Hadid may be a fashionista now, but her style in elementary school was, well, questionable.
Gigi tells the story about the first day she went to school with braces on. She had just cut her hair to her shoulders and wore a red Paul Frank monkey shirt (the monkey also had braces, LOL). She paired the top with her purple and gold Los Angeles Lakers shorts and wore her brown and pink Puma sneakers. She noted that she had purple and gold rubber bands on her braces, as well #LakerGang.
—Reporting by Holly Passalaqua
Watch:
Gigi Hadid Talks Bestie Kendall Jenner