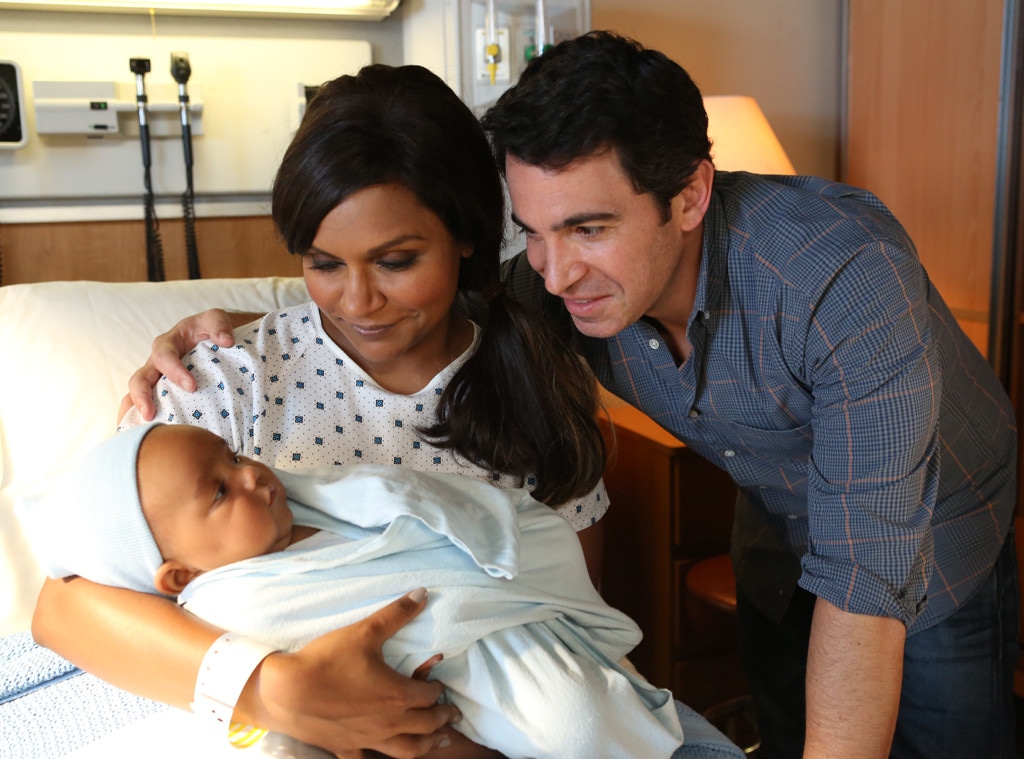 NBC/Hulu
Break out the celebratory champagne, Mindy Lahiri had a baby...and can drink again!
That's right, Mindy (Mindy Kaling) and Danny (Chris Messina) welcomed their first child on The Mindy Project's Sept. 22 episode, just one week after becoming engaged. So many milestones, so little time!
And as the godparents (OK, not really, but we can dream!), E! News is delighted to exclusively introduce you to Baby Leo, who is either named after Leonardo DiCaprio or Leonardo Da Vinci, depending on which parent you ask, in these brand-new photos of TV's most adorable new arrival. All together now: Awww!
 "She's a great mom. We've written her as an incredibly fierce, loving mom," Kaling spills.
And fans fretting over whether Baby Leo's arrival will have a negative impact on the show can stop all that unnecessary fretting, thank you very much. "A lot of people have been questioning how a baby will change the dynamic, and honestly, if anything it's given her a surprising depth as an actress to now play," Kaling explains, "because she loves something else more than she loves herself."(Is it still weird being your own role model, Mindy?!)
And Ike Barinholtz, who plays Mindy's BFF Morgan and is a writer on the show, says we may see mama Mindy struggle a bit with balancing her larger-than-life personality and spirit with motherhood. "There's a couple episodes in where she's doing a couple of things that seem questionable at first, but they're really innocuous," he says. "They're just her trying to maintain her personality and her spirit. I think it would be weird if all of a sudden Mindy was a perfectly proper mom. That's so not fun. And so to watch her struggle with, 'Do I take my in-inoculated baby to go to a book signing for the Wilson brothers' new cookbook?'"
And let's not forget about daddy Danny, shall we? When it comes to his parenting skills, Barinholtz teases, "I think he's amazing. I think he's definitely an umbrella dad and overbearing and very worried and stuff, but I think he has such a good soul that he'll be good for the baby too."
Executive producer Matt Warburton adds that Leo's arrival will only highlight Mindy and Danny's differences, saying parenthood "brings out the most them them that we've ever seen. What it does is really, to the extent that they've kind of dealt with what's annoying to each other about themselves, it brings it all out to the front again. Because when Mindy's annoying now, it's not just Danny that's getting annoyed. He's getting annoyed on behalf of his son. They really are fighting over what kind of music to expose the kid to, Mindy wants him to be a model from the age of two days, it allows them to be their most selves for good and for bad."
Kaling adds that Mindy "the kind of mom who I think looks at her baby and is like, "Oh, he'll be a model." She wants to be a stage mom and wants him to go be an actor and be in TV shows and stuff."
Looking at him in the photos above, can you really blame her?!
New episodes of The Mindy Project are available every Tuesday on Hulu. 
For more on Mindy's new role as a mama on The Mindy Project, tune into E! News at 7 and 11 p.m.
—Reporting by Jean Bentley