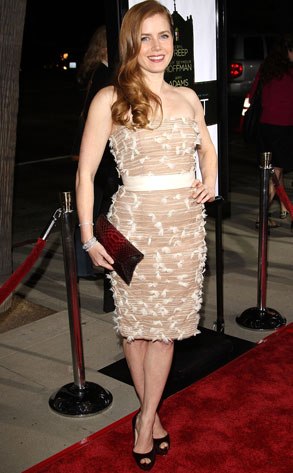 Jason Merritt/Getty Images
How does Meryl Streep do it? To get through the absolutely horrific subject matter in surefire Oscar-nabber Doubt, director John Patrick Shanley told us at the movie's premiere, "Meryl and I would sing ABBA songs on-set" to relieve tension. Guess something good came outta that airheaded anomaly Mamma Mia!—some Swedish singing therapy amidst priest-molestation intrigue. Is this what makes M.S. such a genius? She borrows from her preceding flicks while filming her current one? Did Streep's Prairie Home Companion crooner come out while she played a stiletto-stamping Anna Wintour clone in The Devil Wears Prada?
And Doubt proved once again that bubbly redhead Amy Adams is more than an Enchanted princess—gal was fab as a naive nun, though Double-A herself was down 'n' almost out at the premiere with a cold. Is this H'wood lifestyle gettin' ya down, Ames? Ever want to "pull a Joaquin" and retire? A2 giggled between coughs. "Not quite yet, no!" Yeah, neither is Joaquin. Mark our bitchy words.
—Additional reporting by Becky Bain