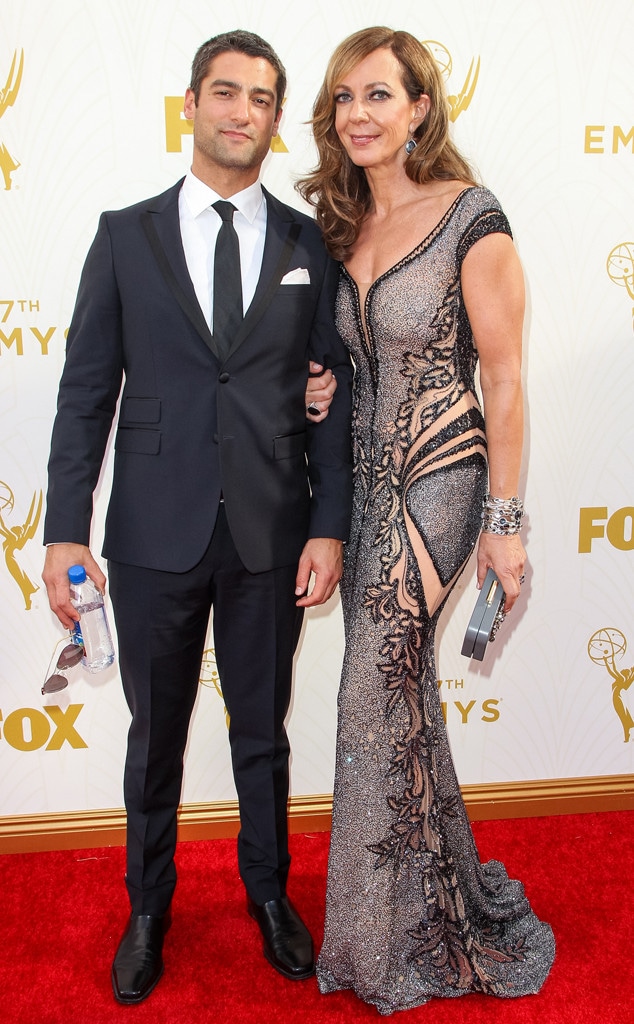 Paul A. Hebert/Invision for the Television Academy/AP Images
Allison Janney didn't only take home the trophy for Best Supporting Actress at the 2015 Emmy Awards…She also went home with a super hot dude!
The 55-year-old Mom star showed up to the show with a hunk on her arm and even gave him a big ol' kiss after winning the award, sending the Twitter-verse into a frenzy of wondering who the lucky guy could be!
Well, E! did a little bit of digging and found out the dark-haired hottie is a 35-year-old production coordinator by the name of Philip Joncas who actually worked with Janney a few years ago.
Here's everything you need to know about him:
1. He's successful: Joncas is a production manager and production supervisor who has worked on everything from the Food Network—for shows like Chef Hunter and Extreme Chef—to the History Channel with several feature films in between. In fact, he worked with Janney while collaborating on The Way Way Back in 2012. He also helped work on the critically acclaimed Alexander Payne film Nebraska and the pilot for the popular HBO series Silcon Valley.
2. He's a smarty pants: He studied at the Minneapolis College of Art and Design to get a post-baccalaureate degree in film. Before that, he received his Digital Media Certificate in film at the Corcoran College of Art and Design and got his Bachelors Degree in art (with a concentration on digital media) at The Catholic University of America in Washington DC.
Danny Moloshok/Invision for the Television Academy/AP Images
3. He was married: Joncas was previously married to a woman named Amy von Walter in August of 2009. An old blog shows a few photos of Phil doing a bit of modeling during what the author notes was his engagement shoot with Amy. Though there aren't any photos of them together, the blog post before Phil's photo shoot shows a few pictures of Amy, too.
4. He's a small town guy: On his website, he notes that he was born and raised in Lowell, Mass., a town in the northeastern part of the state with a population of about 108,000.
5. He currently resides in Los Angeles: His LinkedIn account says he lives in Los Angeles and is working as a production coordinator for IATSE Local 871—a site that features news and history.
6. He's also super in touch with his artistic side: Joncas is a photographer and a painter. He has a website dedicated to his artistic work in which he says, "Art has become my release, my life away from life where I am my true self. I am an artist." He focus mostly revolved around abstract oil paintings with a goal to "stir emotion."
7. He's on Twitter (but not really):  He doesn't tweet and only has 35 followers…but Janney is one of them!
8. He's been out with Janney before: The two were photographed together on the red carpet at the Minions premiere on June 27, 2015.
So what do you think? Is he a good fit for the seven-time Emmy Award winner? Sound off in the comments!
Also, to see what Janney had to say about her big win and what caused her to sing during her acceptance speech, check out the video below!
—Reporting by Adam Mann
Watch:
Allison Janney Explains Singing Emmy Acceptance Speech