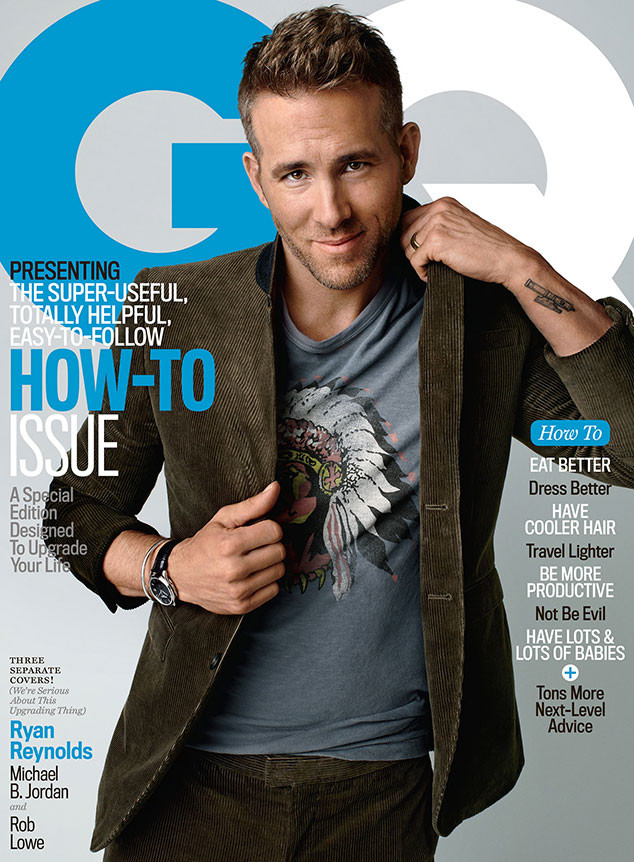 Peggy Sirota
Ryan Reynolds is the first to tell you he knew nothing prior to becoming a dad, and still really doesn't know much about fatherhood.
Although his wife, Blake Lively, gave birth to daughter James eight months ago, Reynolds tells GQ that he's still figuring it all out. He has learned at least one thing, though. "The one piece of advice I would say is: Don't listen to any advice. Because there's nothing you can do to prepare for it," he tells the magazine.
The Deadpool star has been considered one of the sexiest stars in Hollywood for years, but now the father-of-one is only interested in his passion projects and his family; he and Lively even decided to raise their daughter in a rustic home outside of New York City, away from the limelight. But he admits he surprised himself at his natural instincts.
"I'm surprised how patient I am with it. I feel like I could sometimes have a bit of a short fuse, but there's just been this weirdly endless supply of patience," he explains.
"I have no problem waking up five times in the middle of the night and changing diapers, and as exhausted as you get, I have this stupid grin on my face all the time. And that's not because I have a nanny or something like that. It's just us right now, and I love it."
Some of his worry might have stemmed from the not-so-easy relationship he and his brothers had with their father, but he adds that all of them turn to each other for a guiding hand.  
"I can't say I had an easy relationship with my father, and I can't say my brothers did either, but I look at each of my older brothers, and they're all fathers, and they're all great fathers. So I had some good examples," he says, adding, "but I don't think you really necessarily need examples.
Related:
Ryan Reynolds Doesn't Want Daughter James to Say What?!
He continues, "You just try to not be a complete pile of s--t and just be there for them. You know, I like it: I mean that in the heaviest context. I genuinely like it. I like being a father. I like having a daughter. I would like to have more kids. You know, it seems to suit me pretty well."
Now that his world revolves around baby James and his wife, Reynolds says that he has far more respect for his parents now that he knows what torture he and his brothers put them through. But now he's just taking it day by day, learning the ins and outs of parenthood—and the subsequent baby products he has to learn to use at the risk of the online community. (He was once chewed out for putting James in a carrier improperly.)
"Yeah, 'Can I just make some mistakes and all of you just f--k off?' Yeah. You want to be able to say that. But you can't say that," he says. "There is almost no community on Earth as intense as the parent-child online community."
The couple has since moved on since the adorable photo-turned-faux pas, but they've also had to learn to deal with unfaithful friends. Reynolds confesses he had to cut a lifelong friend out of his life after he caught the anonymous pal trying to shop photos of his daughter. "A guy that I'd known for my whole life, one of my closest friends growing up, he had been shopping pictures of my baby around," he explains.
"I kind of got in front of it, which is good. But it was a slightly dark period. A bad couple of weeks."
Sadly, Reynolds and said friend no longer speak.