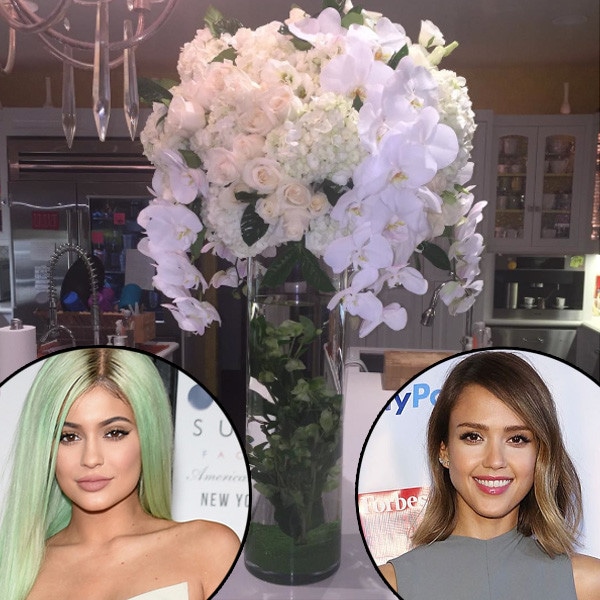 Instagram, Getty Images
Sometimes, the nicest gestures are made without words.
Kylie Jenner, 18, sent Jessica Alba an arrangement of beautiful flowers after the 34-year-old actress revealed the reality star's bodyguards had "body-checked" her while making their way through the crowd leaving the Opening Ceremony runway show at New York Fashion Week. Alba did not blame Kylie for the incident.
"It was by two of them," Alba said on Andy Cohen's Bravo talk show Watch What Happens Live this week. "I was like, 'Whoa! Whoa! What's happening?' I thought there was like a fire. 'What's going on?' But I guess someone was just leaving the building. So, yeah, I don't know. It was really shocking."
On Friday, Alba posted a photo of Kylie's gift—a vase filled with white roses, orchids and hydrangeas (don't tell Madonna).
"Wow! Came home to the most beautiful flower tree I've ever [seen]!" Alba wrote on Instagram, alongside a pic of the arrangement. "Thank you @kyliejenner you are a sweetheart!! So thoughtful."
Keeping Up With the Kardashians returns to E! on Sunday at 8/7c!
(E! and Bravo are part of the NBCUniversal family.)
Watch:
Kylie Jenner Talks Attending NYFW With Tyga