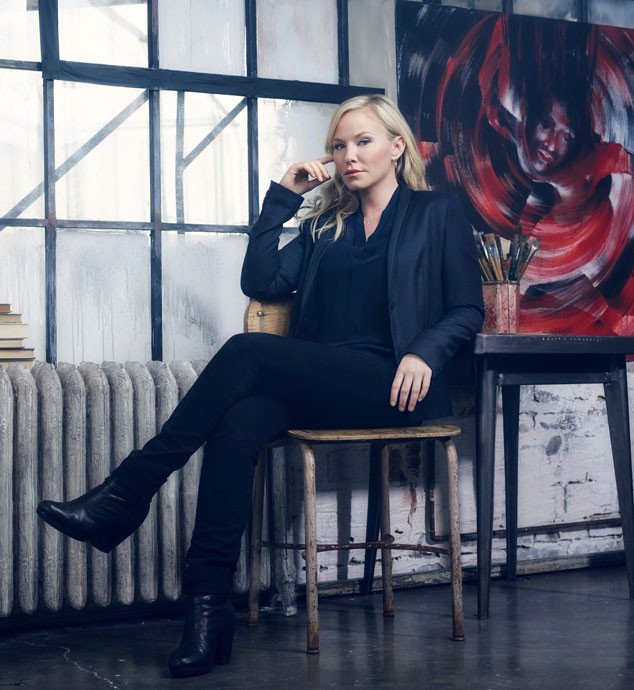 Jason Bell/NBC
Seventeen years in and Law & Order: SVU is doing something it's never done before when it writes in Kelli Giddish's real-life pregnancy in as the character's pregnancy. Yup, no character has never been pregnant before.
"[Mariska Hargitay] had somebody come in…I looked it up—I looked up when I first got pregnant what other TV shows did and…I guess on The X-Files, she went away. She got abducted by aliens," Giddish said with a laugh. "So I was like, 'That can't happen on SVU. Can't pitch that idea.'"
So Giddish's Amanda Rollins, a dedicated detective with a gambling addiction that has caused her quite a few problems, will be pregnant. "I feel so comfortable in their hands," Giddish said of the writers.
Rollins learned she was pregnant in the two-hour season 17 premiere. Dallas Roberts' Dr. Yates said he smells it, the pregnancy, on her. "It's creepy, right?" Giddish said. Last season, her character revealed she was a survivor of sexual assault and took some time off. With the gambling addiction and her haunted past, Rollins has had quite a journey, the baby is just another leg.
"Well, now she's got another challenge. This one is more natural, or better, I guess, than the gambling addiction," she said. "What's going to be really fun is getting to see who the father is—I do know. I got to pick…I kind of did, yeah. I was like, it can't be Danny [Pino], that would mean he would have three baby mamas. He's got two kids from two different mamas!"
In the premiere, Rollins tells Benson her mom will come to town, along with her troubled sister. Oscar nominee Virginia Madsen will play her mother in episode six of the season. Will the pregnancy sideline Rollins? Eventually, Benson told her in the premiere.
"Look, I know you're going to fight me on this, but as soon as the department hears, they're going to put you on restricted duty," Benson told Rollins.
"Can we wait to tell them? I just want to work until the last minute," Rollins asked.
"I know what a hard worker you are. That's a really good thing because being a single mom is, is not easy," Benson said.
"Well, I may not be on my own. My mom, actually, might move up to New York," Rollins revealed.
"Good! Good. I want you to know I'm really happy for you. If you want or need to talk about anything, I'm here," Benson said.
Hargitay's Benson recently became a single mom to baby Noah, officially adopting her foster son at the end of season 16. The two women, who have had their differences before, have formed a tighter bond, something Giddish said she's "absolutely" looking forward to exploring. "Two women don't always have to be at each others throats. They can get along every now and then," she said.
And there's been more bonding going on off-screen too. Giddish revealed her baby news to Ice-T's wife Coco Austin. The couple is also expecting.
"They had the secret. They knew the secret before anybody knew," Ice said. "Those two, she shared with Coco first and then slowly started to seep out."
As for what she's hoping for, Giddish summed it up succinctly: "Health. I hope he's healthy," she said. "And in real life. That's all you care about."
Law & Order: SVU airs Wednesdays, 9 p.m. on NBC.
(E! and NBC are both part of the NBCUniversal family.)
Related:
Top 9 Most Entertaining TV Moms