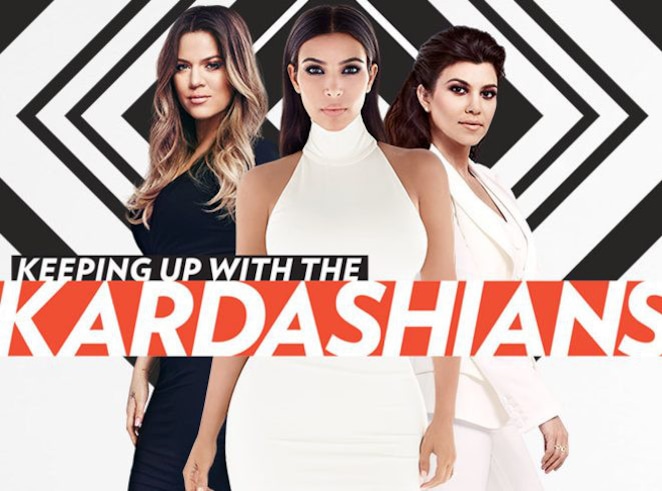 The Kardashians have returned!
Tonight's mid-season premiere of Keeping Up With the Kardashians began with the family cooking dinner at Kourtney Kardashian and Scott Disick's house. But Kourtney was understandably upset that Kylie Jenner flaked on spending time with them.
"Kylie has been really distant, just not responding to texts, which is so not like her," Kourtney said. "I just feel bad. With her dad transitioning, everyone's been really emotional…and I just want to make sure that she's okay, but I haven't even seen her."
Later, Kim Kardashian met Khloé Kardashian at her house as she was packing for their very first trip to Armenia! "You, me, North and Kanye are going to rule that town!" Khloé said. "Dad would have been so excited," Kim replied.
Afterward, mama Kris Jenner visited Khloé to find out if Rob Kardashian was going to join his sisters in Armenia. "You know he's not going," Khloé told her mom. "You guys have got to leave him alone and let him have a breather."
"I just want to encourage him to go," Kris replied. "So, you want to force him to go to Armenia with the most popular Armenian girl ever?" Khloé responded.
Subsequently, Kim and Khloé flew to Armenia later that night with Kanye West and North West. When they touched down, it was safe to say they were greeted with a warm welcome. Government officials and thousands of fans received the sisters as they got off the plane. The sisters were obviously thrilled to visit the country and learn about their ancestors, but they were disappointed that Rob and Kourtney weren't there.
At their hotel, even more fans were waiting outside. "They're all chanting Kim's name," Khloé said. "Kim is in her glory. She loves all this. If Kim ever loses a little bit of fame, she should just move to Armenia. She'll be golden for the rest of her life." LOL!
The next morning, Khloé and Kim got ready to embark on an Armenian adventure around the city. But first, Kim had some surprising news to share with her little sis! "I am pregnant!" Kim said. Yay!
"When did you find out?" Khloé asked, surprised. "Like two days ago," Kim responded. "But I haven't told anyone, just you. I told North last night, but I don't think she understands." Aww!
"I really thrived when you were fat and pregnant and they compared you to a whale," Khloé said to her. "It was the first time I was ever the thin one."
"This is like your moment to shine," Kim told her. "You've got to do every sexy photo shoot you could possibly imagine. Kourtney's just not sexy anymore." Ouch!
"That's so sad that you guys have to be pregnant for me to be the thin one," Khloé joked.
Back in California, Kourtney and Kris took a car ride together and discussed Kylie's flaky tendencies. "Kylie is such a bitch, by the way," Kourtney told her mom.
"What has she done now?" Kris asked. "She just doesn't respond," Kourtney said. "I literally wrote her last night to work out with me and you could at least write back N-O."
Kourtney decided to give Kylie a call from the car to ask her why she doesn't respond to texts. "I didn't even see your workout text. That's the problem," Kylie said. But when Kris asked Kylie where she was, she was surprised to hear her mom's voice and got really awkward. Then, she hung up!
Meanwhile, Kim, Khloé and their cousins visited an authentic Armenian carpet factory for dinner, music and a traditional fashion show. When the cultural center representative came over the welcome the ladies, Khloé had an unusual request for the attractive woman. "My brother isn't here and you're such beautiful girl, can I take a picture of you? I want to show my brother how beautiful Armenian girls are!"
Following fashion show, Kim told the representative that she really liked one of the necklaces. She immediately took it off the model's neck and gave it to Kim to wear! "Literally, if Kim said, 'Oh, you're daughter is so cute,' they would give Kim their daughter!" Khloé said. Ha!
Later, the sisters were given the opportunity to try on traditional Armenian garments. After that, the group invited Kim to dance, but she coerced Khloé to join in the festivities in her place.
In Los Angeles, the elusive Kylie finally visited Kourtney and Scott at their house, and Kourtney took it as the perfect opportunity to grill her youngest sister. "So, what is a day in the life of Kylie Jenner like?" Kourtney asked her.
"I don't know. I have such a boring life right now," Kylie responded. "What do you do every night?" Kourtney probed.
"I've been working on my house a lot," Kylie responded. "Imagine being in the twelfth grade, buying your own home talking about meeting with interior decorators," Scott mused. "I was thinking about which chick would let me throw it in her that night. You know what I'm screaming?"
"Mmhmm," Kourtney nonchalantly responded.
Then, Kourtney asked what Kylie does every day for lunch. Kylie responded that she likes to make tacos and Kourt said, "That is a lie! You don't do that. I know you are a lady who lunches every day." Kourtney suggested that Scott and Kylie have lunch together because Scott is more of a friend figure and she might open up to him.
In Armenia, Kanye visited the Tumo Center for Creative Technologies, an art and technology school, where the students got an opportunity to play their music for the Grammy-winning artist!
Back in the States, Kylie and her friend Jordyn went out for a lunch date at Casa Escobar restaurant. Scott kept calling her while she was out, but she refused to answer, so he decided to make an appearance during her meal! "Are you stalking me?" Kylie asked.
"I thought I'd stop by and see what you were up to," Scott said. "You're embarrassing me in front of my friends!" Kylie replied.
Scott's presence abruptly ended Kylie's lunch as she quickly made moves to leave. "I just needed to find out if there's anything suspicious," Scott said. "And there really isn't."
Elsewhere, Kim and Khloé met with a genealogist to learn more information about their heritage. She told them that they were able to locate their ancestors' hometown and their old house, and they would be able to visit! Then, the conversation turned to the tragic Armenian genocide. "My great-great grandparents—that's why they moved to California," Kim revealed.
Later that night, Kim called her mom to chat. When Kris started tearing up about Caitlyn Jenner's transition, Kim cheered her up with her excited pregnancy news! "That's the best thing I've heard in so long!" Kris said.
The next day, Kylie decided to sit down with Kourtney and have an honest conversation. "I think I've just been dealing with trying to hang out with dad and mom," Kylie disclosed. "I've been spending a lot of time with dad actually. I've been there almost every day. I know mom will just be weird about it. I don't want to hurt her."
"You know, I have not met Caitlyn yet," Kourtney said. "Shut up, I love Caitlyn," Kylie replied. "She's coming over today if you want to come."
"Maybe I will," Kourtney responded. "But I'm just not trying to hurt anybody, so I don't really tell anyone where I am ever," Kylie added.
Meanwhile, Kim and Khloé went to visit the town where their ancestors came from. While in the car, Khloé mentioned that she forgot to get ex-husband Lamar Odom's phone number from her Blackberry. "Why do you need Lamar's number?" Kim asked. "So I can check on him," Khloé snapped. "I wanted to make sure he's okay. Can't I do that?"
"You just deserve so much better," Kim responded. "I don't ever come at you about all your trifling s--t you used to do until you got married, so take a chill pill, slore," Khloé told Kim. Damn!
The tension dissolved when the sisters finally arrived at their great-great grandparents old home. While touring the house, Kim randomly picked up a coin. In the car, she told her cousins, "We said to my dad when he passed away, "Will you come back as a bird and let us know you're okay?' and this has a bird on it."
Later, Khloé, Kim and Kanye visited the Armenian Genocide Museum and memorial to pay their respects. "It was always so important to my dad to understand about the genocide," Kim said. "Being here is a little overwhelming because it really does put everything in perspective when you think about how many people were killed and how many lives this affected."