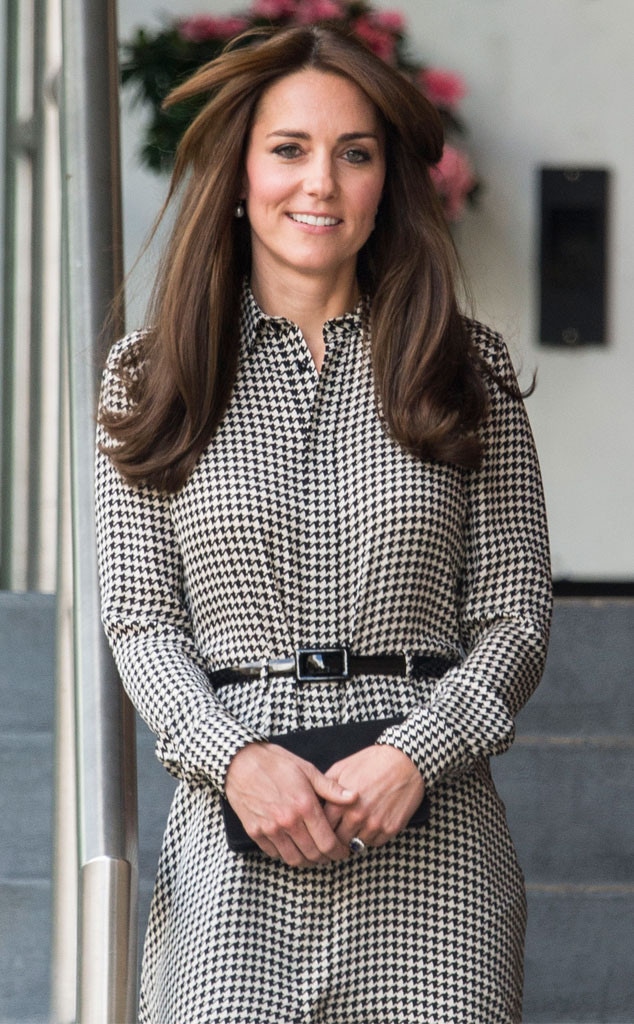 Mark Cuthbert/UK Press via Getty Images
Kate Middleton's maternity leave is over!
Four months after giving birth to Princess Charlotte, the 33-year-old Duchess of Cambridge visited the Anna Freud Centre in central London Thursday to learn about its work treating children and young people with mental health issues.
Giving royal admirers a better look at her new bangs, she picked an American designer for her first solo appearance in months, wearing Ralph Lauren's $1,595 "Austin" dress with Stuart Weitzman "Power" pumps. She carried a Mulberry bag.
Prince George, 2, and his sister, 4 months, stayed home in Anmer Hall, Norfolk.
The Duchess greeted Michael Samuel, chairman of the trustees of the Anna Freud Centre, with a warm embrace upon her arrival. "We are absolutely delighted that you are here and very grateful and hope that today you will get a real insight into all aspects of our work," Samuel told Middleton's assembled guests. "Your continued support on this very important issue will be an invaluable ingredient towards making the real and urgent progress which is necessary in this area."
The Anna Freud Centre runs a school in which parents are allowed to sit in on lessons, as well as attending their own classes to learn how they can better support their children. Ahead of Middleton's visit, parent Wayne Llewllyn told Sky News that his son is now ready to go back into mainstream school.
"Before he came here he was very aggressive, very outspoken and challenged everything. Things happen at home that can affect a child's learning at school and sometimes parents can be wearing blinkers and blind to that sort of thing, because you may have other children," Llewllyn said. "I have another son who has ADHD, so we knew there were a lot of things we had to do, and this school has taught me to listen to my son a lot more and made me a better father for it."
The Anna Freud Centre's Family School uses interactive learning to help improve children's attention and concentration, and Middleton was able to test out the SmartGym learning technology with a student. "The Duchess wants to play a part in the open discussion around the emotional and mental wellbeing of children," a royal spokesperson said in a statement. "Building on her work over the last 18 months, she will continue to champion the valuable work that many charities and organizations are carrying out in this field."
Chris Jackson - WPA Pool /Getty Images
In February, Middleton helped launch the U.K.'s first Children's Mental Health Week. "The challenges children face in the U.K. today could often feel overwhelming. Both Prince William and I have seen that many young people are struggling to cope with the impact of bullying, domestic violence, family breakdowns and more," she said in a powerful, heartfelt video message. "Without support, the effects of these challenges can be traumatic leading to serious issues such as anxiety, depression, addiction and self-harm."
"We need to help young people and their parents understand that it's not a sign of weakness to ask for help," Middleton added. "A child's mental health is just as important as their physical health and deserves the same quality of support."