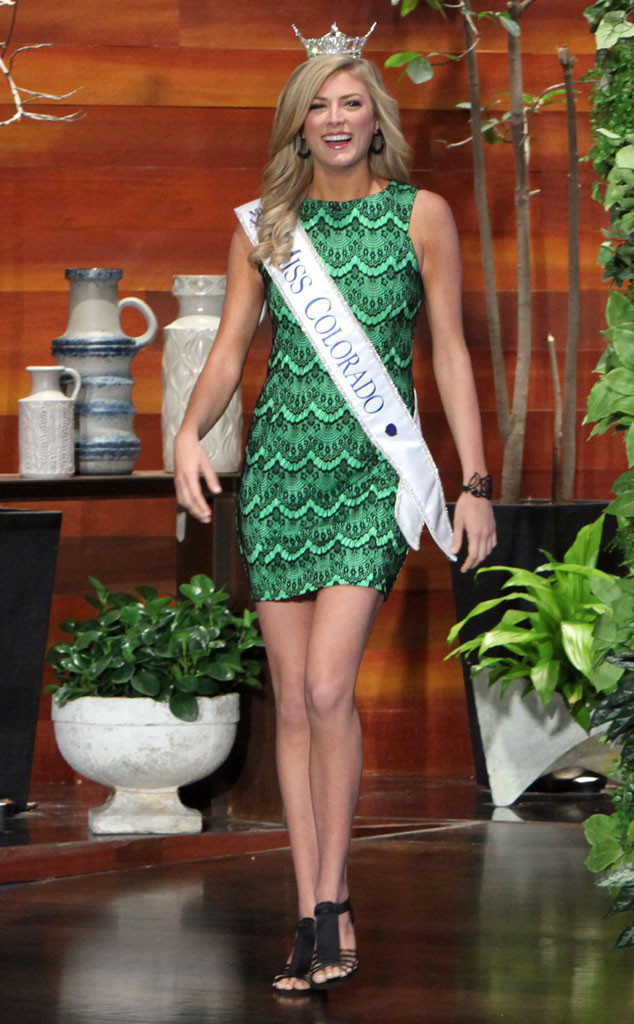 Michael Rozman/Warner Bros.
Miss Colorado Kelley Johnson epitomizes class.
During the 2016 Miss America pageant Sunday, Johnson was asked which woman's face should appear on the $10 bill beside Alexander Hamilton. She made the judges smile with her answer, telling them, "The person that I would put on the $10 bill would be Ellen DeGeneres. I think that woman is so amazing. Not only is she kind, not only is she intelligent, not only is her entire platform speaking tolerance and equality for all, and kindness, but she's able to be funny without insulting someone, and I think that is an incredible feat."
As a result, DeGeneres invited Johnson to join her on The Ellen DeGeneres Show, airing Thursday. "They gave you 20 seconds to answer that question. You probably had more nice things to say about me. I'm going to give you five seconds, all right?" the host told her guest. With the timer ready, Johnson said, "This is an absolute dream come true for me. This woman is so intelligent. She's kind..." The buzzer sounded, so DeGeneres gave Johnson five more seconds to finish her thoughts. "I think it's so amazing that she brings families together and gets them to their jobs with cars, is a complete philanthropist..." After the buzzer sounded again, DeGeneres joked, "Well, we don't have time for all the nice things I do."