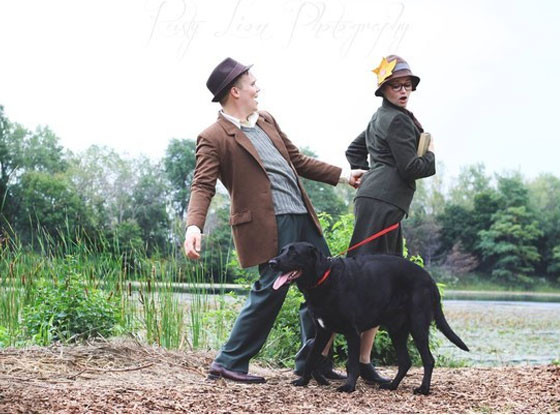 Melissa Biggerstaff / Via Facebook: Rustylionart
Because love deserves to be illustrated with the help of a Disney fairy tale, right?
Longtime couple Corinne Jones and Tony Collier met in 2009 at the University of Illinois, and went on to work at Walt Disney World after graduation. Well, their love for all things Disney clearly stayed strong throughout the years, because they used one famous classic film as the theme of their engagement photos—101 Dalmatians.
The two lovebirds took on characters Roger and Anita, while their dogs Izabella and Mookie took on the roles of Pongo and Perdita for the photographs shot by Jones' cousin, which recreated a few iconic scenes from the movie. And they're epic!
"This is my totally awesome cousin Corinne and her fiance Tony! I had the honor to shoot their engagement photos!!," photographer Rusty Lion Art wrote on Facebook. "She had her heart set on recreating a cute scene from her favorite Disney movie. She is the BIGGEST 101 Dalmatians fan! I think they turned out pretty great! Thanks for allowing me to be a part of such a special moment."
Cruella de Vil wasn't invited, obvs.