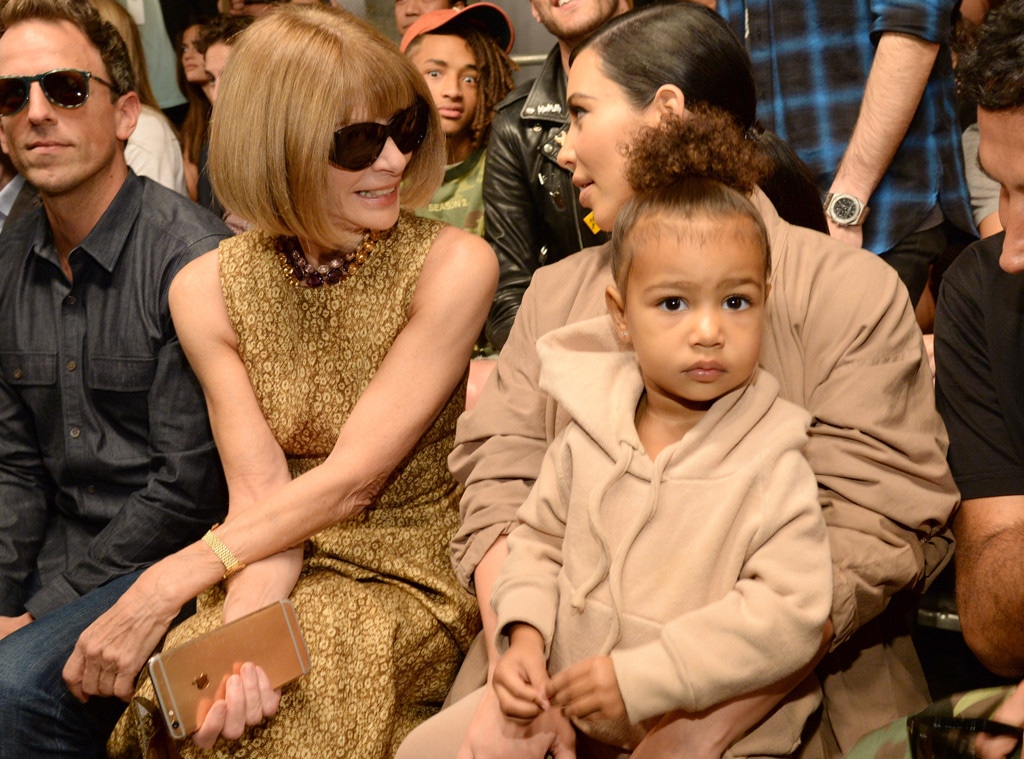 Kevin Mazur/Getty Images for Kanye West Yeezy
North West's infamous tantrum during Kanye West's debut fashion show earlier this year will go down in history as one of the funniest moments at New York Fashion Week…ever! But luckily for dad and mom Kim Kardashian (and a bit unfortunate for the rest of us), the 2-year-old kept from shedding tears during 'Ye's showcase on Wednesday.
The rapper put on a surprise presentation of his new collection with Adidas, Yeezy Season 2, during which Kim sat front row with their daughter alongside Kourtney Kardashian, Khloé Kardashian and Kendall Jenner (Kylie Jenner actually walked the runway for it).
Nori—who looked beyond cute in an over-sized beige sweater with her hair pulled to the top of her head—was much happier to see her papa's show this time around, but that didn't stop her from making at least a little bit of a commotion. An onlooker at the show tells E! News Kim's mini-me kept shouting "Mommy!" throughout the entire presentation.
Nevertheless, we're sure the parents will take this reaction over her behavior at Kanye's first show any day!
In case you missed it, poor little Nori went into a bit of a fit during the opening of the Yeezy x Adidas debut collection in February, crying uncontrollably as Anna Wintour and Beyoncé couldn't help but react with some hilarious facial expressions while trying to remain unfazed by the tantrum.
The cutie was eventually taken backstage to calm down, and Kim was later photographed back at her seat to support her hubby sans their teary-eyed daughter.
Randy Brooke/Getty Images for Kanye West Yeezy
We're glad that the second show went a bit more smoothly for Nori…but how will the fashion critics react to it?
Despite positive feedback about the theatrics of the presentation itself, Yeezy's first collection received some dismal feedback. Refinery29 said it wasn't "as revolutionary—or 'pavement-cracking'—as promised," while many others were less than impressed by the neutral-colored, oversized sweaters and distressed leggings.
For better or for worse, his second collection seems to be a true continuation of that, incorporating more of the same military-inspired ease with a largely nude palette and minimalist aesthetic.
Watch:
Kylie Jenner Talks Kanye West at New York Fashion Week