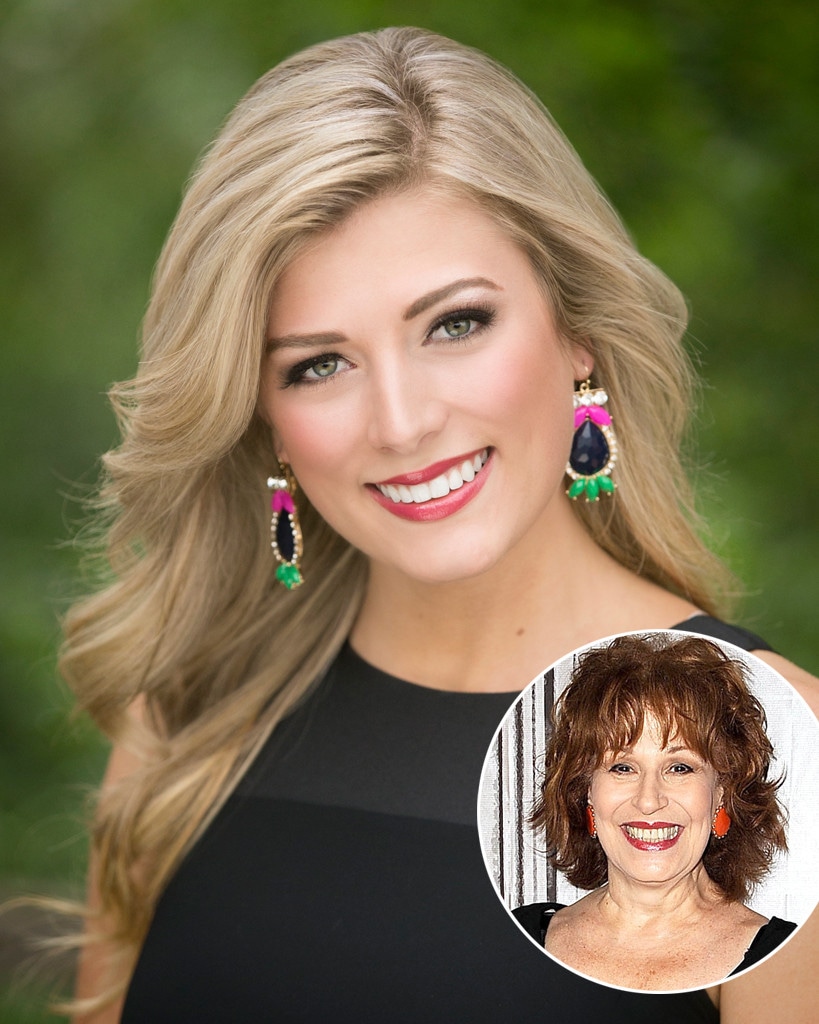 Miss America Organization; Getty Images
It's been one week since The View returned with a (mostly) new panel of co-hosts and the ABC show is already stirring up controversy. 
On Monday, the ladies at the round table, including Michelle Collins, Joy Behar, Raven-Symoné and Paula Faris, were discussing the recent Miss America pageant, during which, for the talent portion, Miss Colorado Kelley Johnson performed a monologue and discussed her profession as a nurse.
Well, the co-hosts were not having it. 
"The talent, though, I have to say, the woman who won sang opera, and she was incredible. Really good," Collins said. "But then there was a girl who wrote her own monologue and I was like 'Turn the volume up, this is going be amazing, let's listen'. She came out in a nurse's uniform and basically read her emails out loud and shockingly did not win."
"Seriously?!" Joy Behar responded, appearing incredibly perplexed. 
"I swear to God it was hilarious," Collins replied. 
"Why does she have a doctor's stethoscope on?" Behar asked before Collins clarified, "She helps patients with Alzheimer's, which I know is not funny, but I swear you had to see it."
Of course, Behar misspoke, as a stethoscope isn't just for doctors—nurses wear them, too—a point that a number of nurses were more than happy to make on Twitter. 
So glad doctor used stethoscope 30sec this am so I don't need to use mine rest of this 12hr shift said NO NURSE EVER #TheView #JoyBehar

? Ellie (@SimonSaidSo06) September 15, 2015
Additionally Nurse Hilary Helkenn posted a response to the remarks on Facebook writing, "It is a NURSE stethoscope too. I use it to listen to a child's lungs, so I can quickly get them to the appropriate level of care, reassuring both child and parent. I also use it to listen to our elderly loved ones, who sometimes have aging hearts that go into abnormal rhythms. It is the NURSE that usually sees the patient first, and it is often the NURSE that notifies the doctor of what is going on. … Your comments denigrated our most noble profession. You owe all of the nurses of this world an apology."
Neither Behar nor Collins has responded to the backlash. Here's more of what social media is saying: 
It's very obvious the ladies on The View do NOT have the compassion, wisdom or respect for human dignity to be "just a nurse." #nursesunite

? Priscilla (@Pris635) September 15, 2015
I wonder how quick @TheView would be to mock nursing if their lives were in a nurse's hands.

? Spoiled Little Brat (@spoiledbratprbz) September 15, 2015
I wish @TheView would set foot in an ICU as "the nurse." They'd run out the door crying by 2030

? ICUMurse (@murse_nurse) September 15, 2015
@TheView Today Joy Behar & crew mocked Miss Colo Nurse Kelly Johnson. Your comments were totally unacceptable. You owe Nurses an apology.

? Jo (@Just_JoBayes) September 15, 2015
The ignorance from @TheView re: what nurses do makes me ill. Her monologue was beautiful. None of us are "just a nurse"! Educate yourselves.

? Allison White (@AllyDub) September 15, 2015
To the ignorant hosts, I may be "just a nurse" to you, but I could be the one saving your life tomorrow. Educate yourselves. #TheView

? KB (@kimberlybryanna) September 15, 2015
Watch:
Michelle Collins Spills on Taking Over "The View"