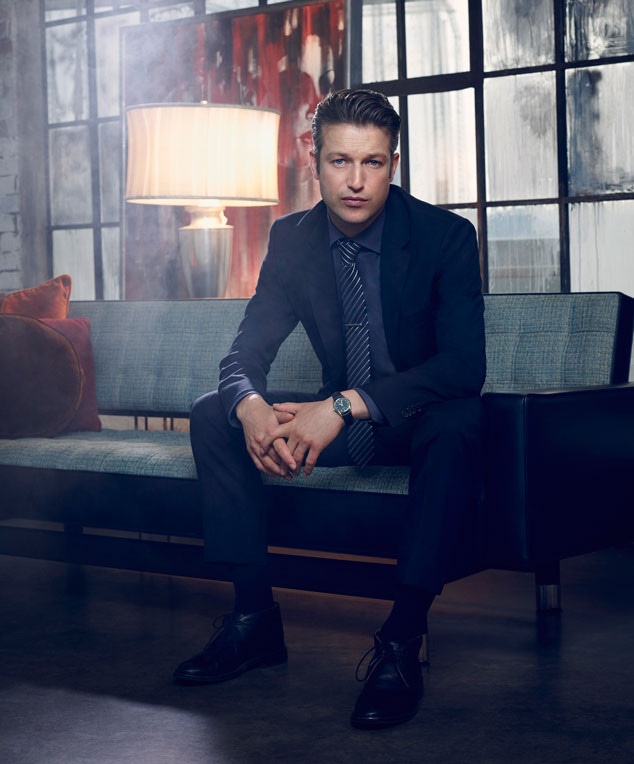 Jason Bell/NBC
Law & Order: SVU has been home to many great characters, from Elliot Stabler to Olivia Benson and everybody in between, but over its 17 seasons, SVU has been home to only one LGBT series regular character. B.D. Wong was the show's only out LGBT character when he portrayed George Huang as a series regular from seasons four through 12. He also appeared in seasons two, three, 13, 14 and 15.
The show regularly has LGBT characters come in and out of its crosshairs, notably in the episode airing tonight, Wednesday, Sept. 30, but there has never been an out LGBT main hero cop or DA. Isn't it about time that changes? You betcha, according to series stars Peter Scanavino and Raúl Esparza.
Scanavino, the newest addition to the SVU cast as Detective Dominick "Sonny" Carisi, said he'd be completely fine if they had his character come out of the closet. "I think it would be cool because it would kind of against type, you know what I mean? And I think it would be interesting," he said at a recent press event on the SVU set.
"I think it would be—I think it's just a given that a character like that has to sort of join the company at some point and given the way I dress, it's probably going to be Barba," Esparza, who plays ADA Barba on the show, said with a laugh. "Although they have talked about my ex-girlfriends a lot."
Esparza, who is of Cuban descent, said it'd be great to "think about representing anything beyond sort of the standard white guy that's always been the center of it."
"Whatever we might come up with. I love the fact that I'm playing someone who's Cuban for Christ's sakes without having to change my name, that that's part of who he is even though I look the way I look. That's part of culture that I've never been able to use—ever," he added.
The two actors agreed it's an important story to tell, especially since the character being gay won't be the crux. "I think definitely right now it's very fortunate that you could have a gay police officer where you could be like that's almost a throw away. It's not going to be he's the gay police officer, he's just doing his job," Scanavino said.
"It's kind of amazing that we're at a place where that won't be the central point of the character's existence and yet, I think the conversation will be tricky and interesting and force people to deal with their own sort of stereotypical sense of what constitutes a gay cop," Esparza said. "What does that mean?"
SVU is no stranger to having LGBT characters as victims, but as a hero in the story would flip the script, especially for a show in its 17th season and with people like Kim Davis railing against gay marriage making headlines left and right. "It would be a very intriguing thing to play with. I think that it would be smart and continue to complicate the storyline, but also to honor something that is changing the world in the most wonderful ways," Esparza said earlier in September. "When I opened the paper yesterday with that silly woman in Kentucky, my response was anger and also simultaneously and kind of laughter—"
"A thrice-divorced woman!" Scanavino interjected.
"A train has passed you by here. You may hate that and you may rail, and you will rail for years, and a whole group of people will rail for years, but it has happened. It's the same issue with gay marriage, I remember feeling like this is a dead issue in that it was a given that this human right…I wonder how we'd head there, but that'd be an interesting place to go."
"It's a complete disregard for the system of justice that you're looking to validate your awfulness with," Scanavino said.
Scanavino and Esparza agreed there seem to be issues with sex and sexuality still in the United States today, and with people cherry-picking what commandments they do and do not follow and what others should do as well.
"It's just interesting that we're dealing with things about sexuality because it is about basic human dignity and power over another human being so now I'm actually like, 'We absolutely must have a gay character the show!'" Esparza said. "We absolutely have to get into that conversation!"
Law & Order: SVU airs Wednesdays, 9 p.m. on NBC.
(E! and NBC are both part of the NBCUniveral family.)
Watch:
Florence Henderson Begs for "Law & Order" Guest Role