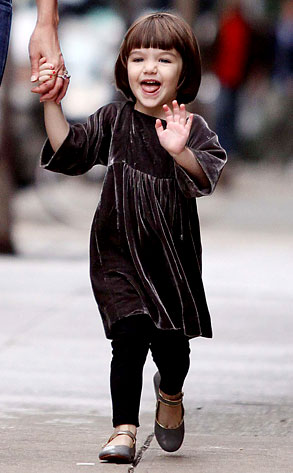 Ken Katz/startraksphoto.com
No doubt our relentless obsession with all things Suri had something to do with this.
The unbelievably adorable 2-year-old offspring of Tom Cruise and Katie Holmes has beat out her fellow half-pint peers to rank No. 1 with a bullet—an insanely, ridiculously cute-as-a-button bullet—on Forbes.com's second annual list of Hollywood's Hottest Tots.
All the kiddies who made the top 10 had to be 5 years old or younger, and their ranking was based on who had the biggest media presence, both in print and on the Web.
Others who made the cut were some tykes with names like Shiloh, Matilda and Sean Preston. Whatever. If you want to know more, check out the list here, because, for us, there's Suri and then there's everyone else, as you can see in our Fashion Spotlight: Suri Cruise gallery!