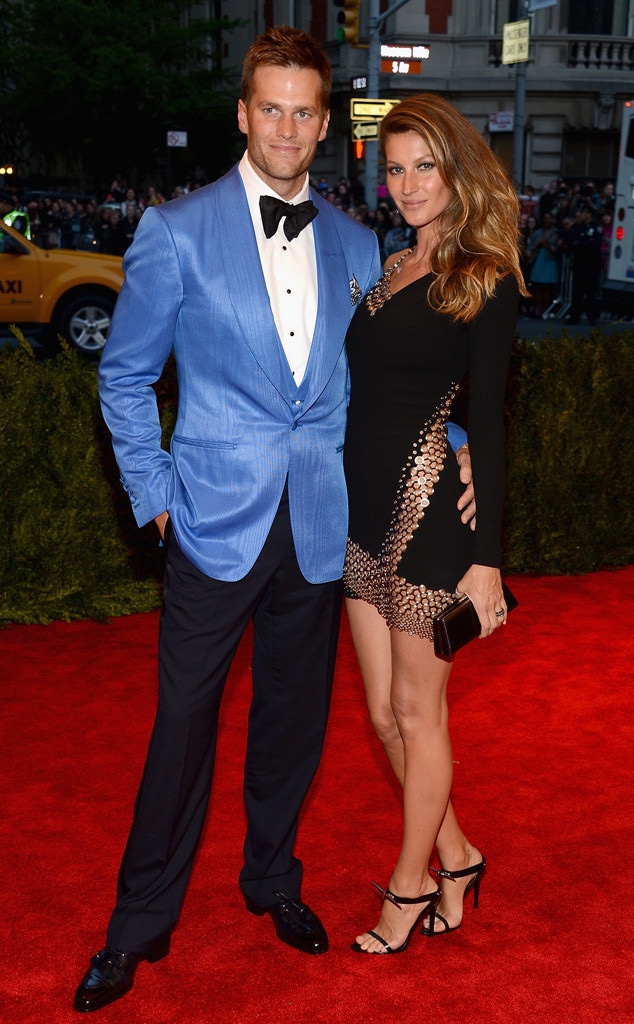 Larry Busacca/Getty Images
Tom Brady has had a tough 2015 (minus winning his fourth Super Bowl ring and being Tom Brady, but still).
Sure, while the embarrassment of that whole Deflategate scandal was rough, the biggest problem he's faced this year has been having his marriage come thisclose to imploding.
Once upon a time the New England Patriot quarterback and his supermodel wife, Gisele Bündchen, were considered one of Hollywood's most dazzling couples. Scandal-free, the only editorial about them seemed to consist of how they both represented genetic perfection. They had two wonderful kids together and spellbindingly successful careers. Their lives, away from the football field and catwalk, seemed to consist of private jets, exotic getaways, magnificent homes and super-star friends.
In the spring, though, everything changed. Tom became embroiled in a scandal over whether his team had purposely deflated footballs during the AFC Championship game against the Indianapolis Colts, and his name was tarnished. And for the first time, Gisele saw a side of Tom she hadn't previously witnessed in six years of marriage.
NorthWoodsPix / Splash News
"They had a very rough few months and the Deflategate scandal took its toll on their marriage," an insider tells E! News. "Tom was very difficult to be around and withdrawn. Gisele was supportive, but she also was frustrated with his stress level and anger. She felt like he was taking things out on her and not being fair."
Tom under pressure wasn't something Gisele liked being around and so she decided to give herself some distance. Says a friend, "Gisele took off several times with her sisters and friends to get away. There was the Paris trip in July for her birthday. It was a good break to have some space. It was much needed."
But the French excursion created even more drama for the couple, with some tabloids claiming her trip to the City of Lights was so the 35 year old could undergo top-secret plastic surgery. (Pictures of two burqa-clad woman were rumored to be Gisele and sister Rafaela because they were reportedly accompanied by a man identified as the model's longtime Paris chauffeur.) It was not the kind of gossip one of the world's highest-paid models needed, especially someone who was used to being praised for her naturally enviable assets.
TIMOTHY A. CLARY/AFP/GettyImages
And things only got worse when the marriage of Tom's good friend Ben Affleck also hit the skids. When the subsequent Nannygate scandal broke (two -gates, one friendship, what are the odds?), the drama within Affleck's household started to bleed over into Tom and Gisele's.
In an unfortunate picture seemingly posted to former Affleck family nanny Christine Ouzounian's private Instagram account, the apparent nanny from hell was shown on a private jet modeling Tom's four Super Bowl rings.
Our source claims the photo was hugely upsetting for Gisele: "Gisele became jealous and enraged. She had a very serious conversation with Tom and, honestly, I didn't know if things were going to work out between them.
"She went to Brazil for a week and that scared Tom a little bit," the insider added. "She also missed his birthday and the first few preseason games for the Patriots. She was definitely sending him a message that things had to change."
(Gisele did acknowledge Tom's 38th birthday on Instagram with a throwback shot of their picture-perfect life, writing, ""Happy birthday my love! We're so blessed to have you in our lives. Thank you for always giving us so much love. We love you! #love #family.")
Ten days ago, however, a judge threw out Tom's four-game suspension from the NFL and, although League Commissioner Roger Goodell vowed to appeal, it paved the way for the quarterback to open the season as usual with his team. The critics will always be there, but the rabid Patriots fans won the day.
And with his professional nightmare behind him, Tom took the opportunity to prove to Gisele that he is more in love with her that ever.
So, the most private of public couples are putting their marital troubles behind them for the world to see. A week ago, the rarely snapped duo went on a PDA-filled date to a Boston-area cinema. They held hands as they exited the screening, putting on a strong show of unity in front of waiting photographers. The following day, Tom gave an interview to a Boston-area radio station and defended his marriage, saying, "We're in a great place, I'll just say that.
David Dunleavy/Splash News
"I'm a lucky man. I've been very blessed with support from my family and certainly her, and there's no bigger supporter that I have than her and vice versa. I've been very blessed to have an incredible relationship with my life partner, and I don't think anything will ever get in the way of that."
Two days later, a happy-looking Gisele cheered her husband on from the stands during the Patriots' season opener.
"Now that the investigation and the appeal are over, Tom is feeling a lot of relief and that he can get his life back on track," a source tells us.
Jamie McCarthy/WireImage.com
"Tom has made her some promises that he is going to shape up going forward and she is willing to listen. When things are good between them, they are crazy in love. Tom is focused on this season and Gisele is there to support him."
Next month the couple are hoping to move into a new multi-million-dollar home in the Boston area. "It's a fresh start for them, a new environment and they are excited about that," says the insider. "They have both put a lot of time and energy into making it perfect for their family. For now, they are staying together and trying to work things out. Neither of them want the marriage to end and they are hoping that this last year of hard times will make them stronger."