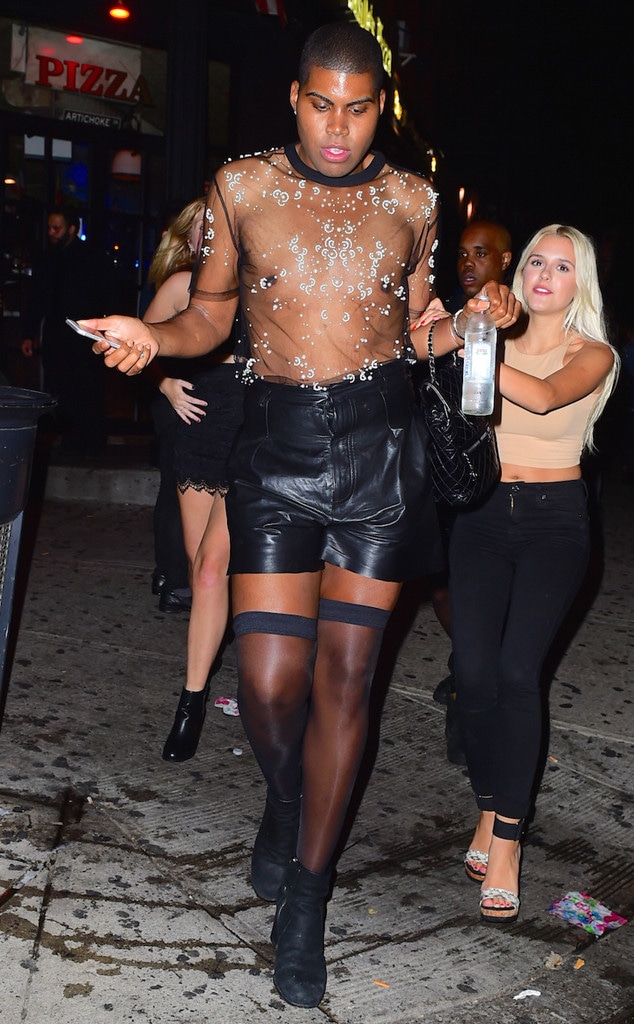 247PAPS.TV / Splash News
You better work, EJ Johnson!
The Rich Kids of Beverly Hills star stepped out in Manhattan Sunday night for some post-runway show celebration during New York Fashion Week—and he did not disappoint in the style department.
The son of basketball star Magic Johnson set his sights on NYC staple 1OAK for his own personal fashion show, where he was seen strutting some serious leg in a thigh-high fringe skirt, black tank top, knee-high stockings and a leather jacket draped over his shoulders. The body-hugging ensemble framed his physique so well, you couldn't help but notice his major weight loss progress.
Johnson took it a step further when he was later spotted in a different outfit—this time, it was barely there.
He opted for a sheer T-shirt adorned with a white swirl pattern tucked into a pair of leather shorts and finished off with the same knee-high stockings and black boots seen earlier, leaving very little to the imagination. For extra oomph, he slung a quilted Chanel backpack over his arm. There's no denying this man has style—and a newfound level of confidence.  
Formerly weighing in at around 360 pounds, Johnson underwent gastric sleeve surgery nearly nine months ago. The 23-year-old revealed on the Rich Kids of Beverly Hills' season two finale that he has since lost 180 pounds, shedding nearly half his weight. 
"The surgery was definitely the best thing that ever happened to me," Johnson said during the episode. "I never thought that I'd look this good, and that is the God's honest truth."
Johnson maintains his new figure with a dedication to Pilates and little regard for diet trends, telling Page Six: 
"I really think it's important that you not listen to so many fads; you really need to find what works for you." It definitely looks like it's working, EJ. 
So, what's next for this fiercely confident new man? A whole lot of loving. 
"The attention I get from men now is completely different than before. I feel like I definitely don't have to work as hard," Johnson said. "I feel like my stars have aligned right now. I just put out my energy, whether it's flirty or sexual or romantic energy, and I just receive response." Sounds like a winning combination. 
As the saying goes, you can't love someone until you love yourself. For Johnson, it seems like he's already there.
"I feel that my confidence level has definitely gone up," he said. "And I'm, you know, a new bitch."
Watch:
The "#RichKids" Have Selfie Struggles in Paris!