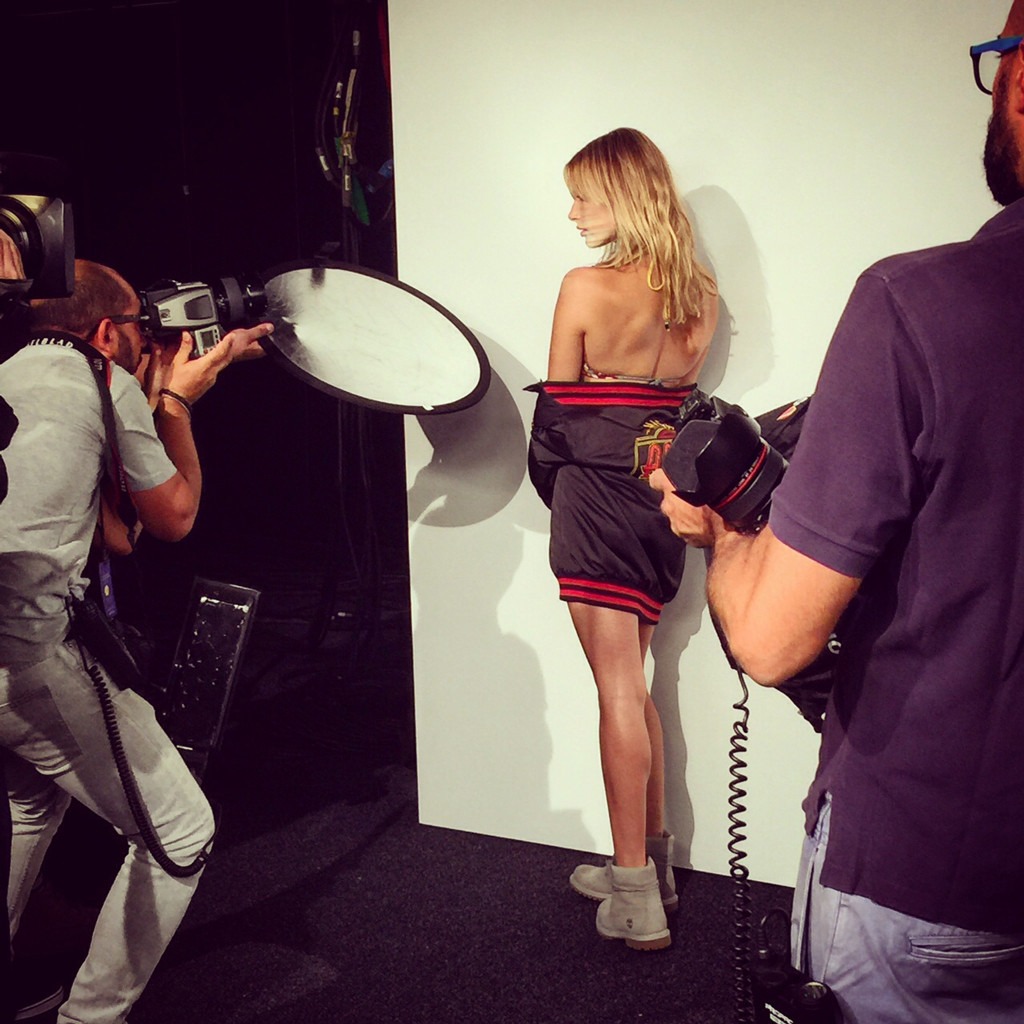 It's official: Hailey Baldwin is on her way to joining the supermodel squad!
The 18-year-old model made her first major runway cameo this morning, lending her strutting skills to Tommy Hilfiger's spring 2016 catwalk. Technically speaking, this isn't Ms. Baldwin's first-ever runway stint at New York Fashion Week—that would be her Sherri Hill spring 2013 appearance—but this does qualify as her first A-list runway job. And by the looks of it, Hailey's already proving herself to be a catwalk queen—just look at these exclusive behind-the-scenes shots!
Hailey's already had plenty of walking practice for big name designers (she's modeled for Topshop and Moschino in both London and Milan fashion weeks past). Still, it helps that supermodel bestie Gigi Hadid was on hand at the show as well, you know, to give Hailey any pointers (Note: Gigi first walked for Tommy Hilfiger at his spring 2015 show).
Oh, and let's not forget that Bella Hadid also took part in the tropical show, which showcased a platform runway set above a beach and pool scene (the models even splashed around in bikinis during the finale walk). And we're not sure which made the greater impact—the bikini-clad model crew, or the resort-inspired runway complete with an island, tiki hut and marooned canoe. That's some serious attention to detail!
Watch:
Hailey Baldwin Spills on Fashion Week Modeling Debut
Noticeably missing from the runway pack? Kendall Jenner, who's fronted several of Mr. Hilfiger's past presentations. In fact, the 19-year-old supermodel has only walked for two designers thus far—Givenchy and Diane Von Furstenberg. But rest assured, Kendall fanatics—we're sure the E! star will be around to partake in a few more runway shows before NYFW is over (for bro-in-law Kanye West, perhaps?).
But back to Hailey—considering this major milestone plus her print gigs with Topshop and Ralph Lauren's Denim & Supply, she's a model force to be reckoned with.
Watch:
Hailey Baldwin Prepares for First Time Walking in NYFW