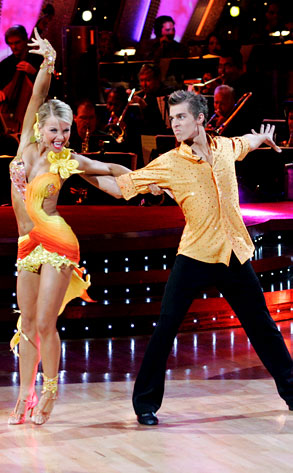 ABC/KELSEY McNEAL
Tween girls weren't the only ones bawling their eyes out at tonight's elimination show for Dancing With the Stars.
Cody Linley, the Hannah Montana star who got the boot tonight, was a bit too, er, verklempt to head straight to the press line after the episode ended, and took a few moments to dry his eyes (and hug a few tween fans) before answering reporters' questions.
So why was he crying? Who's calling him the "next Brad Pitt?" And what secrets did we learn about next week's finale?
"He'll be the next Brad Pitt, are you kidding?" Julianne Hough told us of her partner, Cody. "We're going to look back in 10 years and be like, 'Oh, I danced with him on Dancing With the Stars.' "
"I'm excited for all the opportunities to come," Cody said after the show. "Thank you, Dancing With the Stars! It's been amazing. I don't know about the modeling thing, but definitely films are in my future. Music is my largest passion, so there will definitely be a future there for me."
Hence, the crying. Cody was not ready to say goodbye.
But Julianne's brother, Derek, pretty much said good riddance.
"Cody was great," Derek said. "My sister is gone, but she's got two trophies, so whatever!" (Hey, where is the brotherly love?)
Meanwhile, Lance and Lacey were freaking out over the good news that they'd made it to the very end. "We've been jumping up and down for an hour now!" Lacey told us. And Lance said he feels vindicated. "I made it to the finals, thank God! I'd get a lot of crap from Joey if I didn't make it. Guess he's not that much greater of a dancer than I am."
For next week's final, Lacey teases: "[Lance] loves hip-hop, so we did kind of an old-school theme early on in the season. This time it will be young and fresh, and a lot of our personalities are in it." Lance adds: "I think it will be playing on my strengths finally!" (Lance also took a jab at his sailor costume tonight: "I feel like Donald Duck!")
Kym and Warren are going with a different strategy. "We have lifts coming up," Kym reveals. "With Warren, I have to take advantage of his size. I want him to go crazy and show everyone his personality."
So what about Brooke and Derek's plan of attack? "I love our song!" Brooke hints. "It's going to be a big surprise, and [Derek]'s got a lot of tricks up his sleeve."
By the way, Julianne not-so-rudely interrupted Brooke and Derek's interview to make this announcement to you fans: "If you voted for Cody and me, vote for Brooke and Derek!"
See, Derek, that's how sibling support is supposed to go.
Are you happy to see Cody go? If not, who should it have been? And who are you rooting for to win next week?