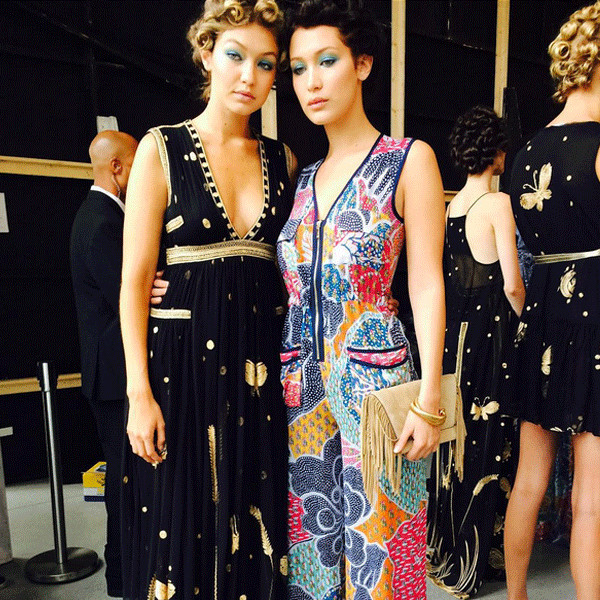 Instagram, EOnlineStyle
Diane von Furstenberg has developed quite the stylish squad.
As New York Fashion Week continued Sunday afternoon, the world-renowned fashion designer debuted her Spring 2016 collection with more than a few famous faces walking down the runway.
Supermodel Karlie Kloss opened the show with a red hot high-waisted skirt that accompanied a V-neck quarter length top with ruffled sleeves.
Kendall Jenner appeared soon after as she opted for a sheer white romper with butterfly accents and a matching handbag. According to an eyewitness, the Keeping Up With the Kardashians star arrived just in time after working on another shoot in the fashion community. Perhaps that explains why she was shaving her legs in the car earlier in the afternoon.  
Bella Hadid and Gigi Hadid made it a family affair as they were able to walk in the show together. Bella was spotted wearing a bright, floral jumpsuit while carrying a fringe bag. Meanwhile, Gigi worked a classic black and gold dress as she closed the show with flowers adorned in her hair.
"It's so fun," Gigi shared with E! News moments before the first look surfaced. "I'm so excited."
Lily Aldridge, Irina Shyak and Jourdan Dunn also appeared in the show where "vivid colors and bold printed reigned" from beginning to end. 
As all the models descended onto the runway one final time to close the show, "Can't Feel My Face" by The Weeknd played it the background. An eyewitness spotted the singer dancing in his front row seat as his song played in the packed arena. 
Tori Kelly, Andy Cohen, Kate Upton, Hannah Davis, Diane Sawyer and Victoria Justice were also spotted in the first few rows of Sunday's show.
House of DVF season two premieres tonight at 9 p.m. only on E!