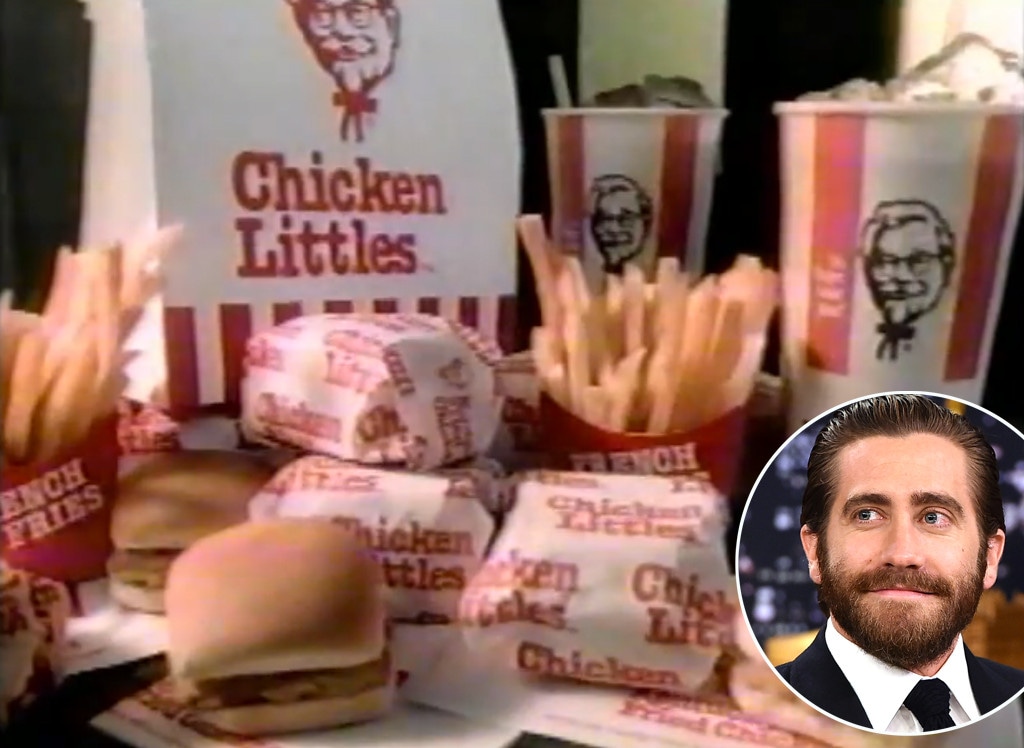 KFC; Getty Images
Ever wonder why KFC brought back its '80s-era Chicken Littles sandwiches three years ago? You may have to thank Jake Gyllenhaal.
The 34-year-old Oscar-nominated actor revealed at the 2015 Toronto International Film Festival, where he is promoting his new movie Demolition, that he once wrote a letter to the company, complaining that they discontinued the menu item. In the film, his character writes repeatedly to a vending machine company customer service rep, played by Naomi Watts, after the death of his wife.
"When I was a little child, I was at school and we were supposed to learn how to write letters and complaint letters," he told reporters. "And so I decided to write to Kentucky Fried Chicken and tell them that I was upset that they had discontinued Chicken Littles, which were a particular type of mini hamburger with fried chicken in the middle of it."
Watch Gyllenhaal at the press conference, at 23:55.
The original Children Littles were largely discontinued more than 20 years ago. The sandwich was made up of a small, square dinner roll that contained a breaded chicken tender with mayo and cost 39 cents each. Like many commercials in the '80s, KFC used good-looking teens and fun jingles to advertise it (one of them closely resembles Matt LeBlanc).
In 2012, KFC resurrected the Chicken Littles and gave them a makeover: the sandwich is now made out of a longer bun and also contains pickle slices. It costs $1.39 at most KFC restaurants.
"It was deeply upsetting to me at the time and I felt like they should bring them back," Gyllenhaal said. "And I think I indirectly had something to do with that."
"It's empowering and I encourage most people, if they can, to really express themselves and bring back whatever they feel like has been taken away from them in their lives," Gyllenhaal continued. "In my case, really important things like fried chicken. Seriously."
KFC had said at a statement in 2012 that after the original Chicken Littles were discontinued, "passionate fans" "placed calls to KFC headquarters, started petitions and built Facebook pages asking for the sandwich to return to the menu" and that a recent poll on the KFC Facebook page showed the sandwich as the "overwhelming favorite" item fans wanted back on the menu.
Many fans who had rallied for the Chicken Littles' return were unhappy they had been revamped. In 2012, the Facebook page "HELP BRING BACK KFC'S CHICKEN LITTLE SANDWICH!" dubbed the new Chicken Littles "abominations."
"You know what I'd really like?" the moderator asked last year. "An ORIGINAL Chicken Little!"
Start writing, Jake.