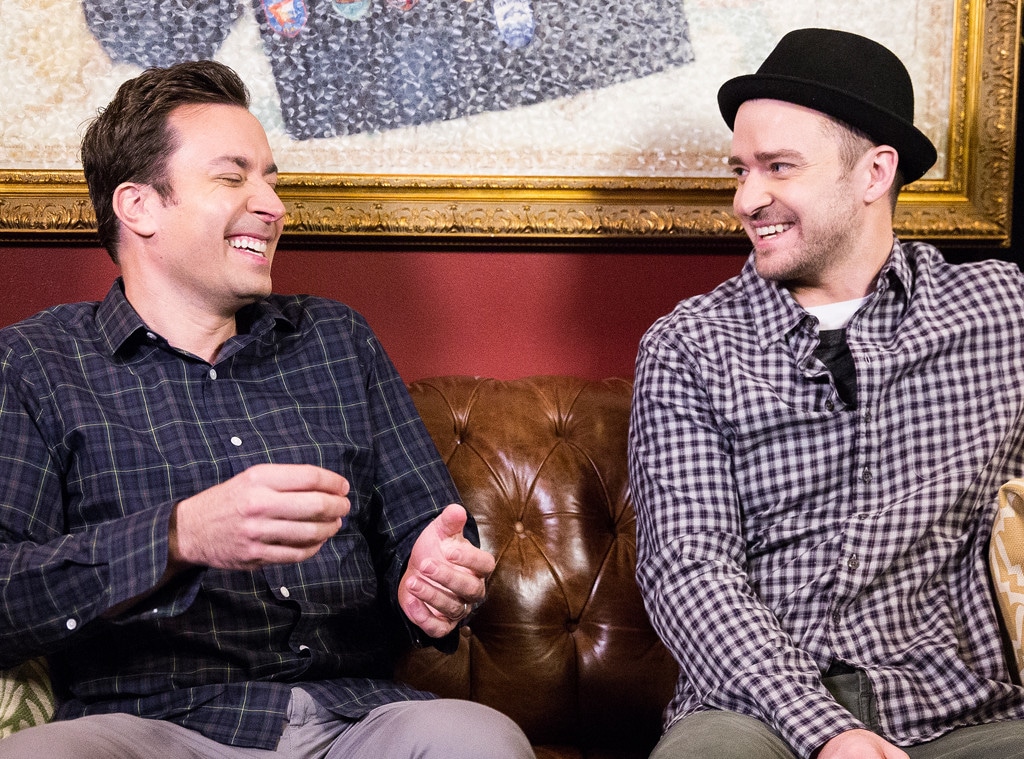 Lloyd Bishop/NBC/NBCU Photo Bank
If only Matt Damon and Ben Affleck had added a little more song-and-dance to the mix...
Jimmy Fallon and Justin Timberlake officially cemented their status yesterday as the reigning bromance in showbiz, offering up a two-pronged display of just-waiting-to-go-viral shenanigans that had everybody squealing and guys texting each other, "Dude, why aren't we more like that?"
Well, you're not like that, sirs, because no twosome can be quite like this one: the perfect storm of comedic chops, musical talent, family-man aw-shucks appeal and all-around adorableness. Separately, they're fun, but together...a force to be reckoned with.
In case you're only stumbling upon this information now thanks to Wednesday's Tonight Show and, just hours beforehand, their impromptu rendition of Beyoncé's "Single Ladies" dance when they were caught on camera at the U.S. Open (or their meticulously orchestrated "candid" moment—we don't care!), here is further evidence of why Jimmy and Justin are the kings of male friendship right now.
Oh, these two, they're more in sync than, well...
They Go Way Back: Aside from multiple J.T. appearances on what at the time was Late Night With Jimmy Fallon, they palled around in real life too—and we're not sure who's photobombing who here in this pic with Justin's then-fiancée Jessica Biel at the GQ Men of the Year Gala in 2011.
And speaking of a now six-year-old Late Night appearance, aw...
The Sincerest Form of Flattery: All best friends can imitate each other, and while he isn't the professional impressionist of the two, Justin does a spot-on Jimmy.
Kevin Mazur/WireImage for TIME
Twinsies: Surely it was only a coincidence that they dressed alike at the Time 100 Gala in April 2013.
Jamie McCarthy/Getty Images for The Tonight Show Starring Jimmy Fallon
When They Took Us to School: Knowing that one of the best ways to teach is through song, the duo embarked on the History of Rap, which now has six parts and counting.
Dance Dance Revolution: While Timberlake has actually only been an official guest on The Tonight Show Starring Jimmy Fallon a handful of times, you never know when he might show up for the hell of it! Of course, it all comes down to viral clips in the meantime, and here J.T. joined Jimmy to illustrate the "Evolution of End Zone Dancing."
They Primp Together: Well, GQ made them do it, but by summer 2013, it was obvious that these two belonged together.
When They Went to Camp Together in 1997: And Jimmy paid homage to Justin's hair circa 1999.
Happy Anniversary: They broke out those Time gala tuxedos again to open the Saturday Night Live 40th Anniversary mega-special in February. Some wondered, "Why Justin?" since he was never actually a cast member. Our reply: "Pfft. Just watch."
And once again, in case you  missed it: