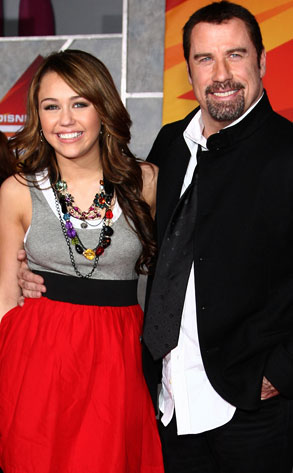 Alberto E. Rodriguez/Getty Images
• Miley Cyrus really is alive after the Internet has now tried to kill her twice, and it looks like her Bolt costar John Travolta got his wig back. Everything is right in the world again.
• Ashlee Simpson is so ready to do some birthing, already. She gave her baby a fair chance to come out all on its own, but now she just might go ahead and induce labor.
• Another date night for Jen Aniston and John Mayer at the Sunset Tower Hotel. The two were said to be "positively glowing," probably because they totally beat the uncool Brangelina in press last week.
• Kiefer Sutherland says jail sucked—they wouldn't even let him smoke.
• Leonardo DiCaprio finally realized all his preaching was kind of patronizing.
• Paris cuddled, whispered and held hands with her ex Stavros Niarchos over the past weekend in Miami. Be prepared for an "I love Benji so much" statement or a joint shopping trip any day now.