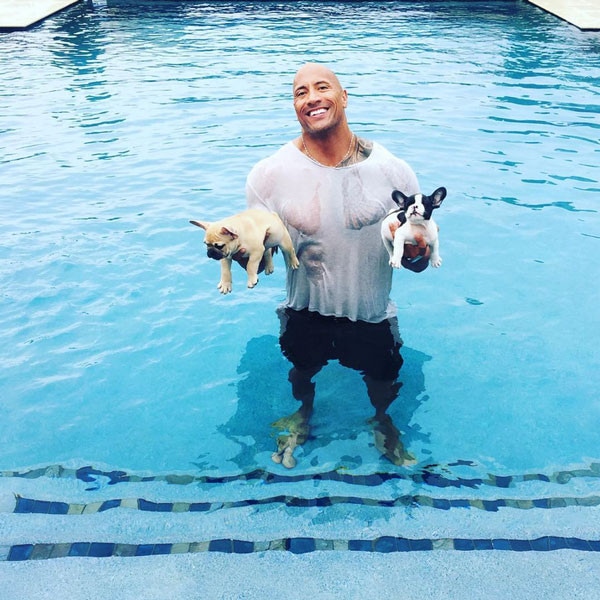 Instagram
The Rock is officially the hero of Labor Day weekend!
Dwayne "The Rock" Johnson found himself with new family members when he welcomed two French Bulldog puppies into his home.
As soon as the four-legged friends arrived, however, they were determined to keep daddy busy.
"[I] bring them home and immediately take them outside so they can start learning how to 'handle their business and potty like big boys,'" The Rock explained on Instagram while holding Brutus and Hobbs. "I set them both down and they both take off in a full sprint and fall right into the deep end of our pool."
What came next was quick and furious thinking that will leave any pet lover totally impressed. While Hobbs was able to doggy paddle, Brutus immediately freaked out over the water and began to sink.
"I take off into a full sprint, fully clothed, dive in the pool, swim to the bottom, rescue my brick, I mean BRUTUS and bring him back to the edge of the pool," the Fast and Furious star recalled. "He was a little delirious…took a moment, threw up all the water he swallowed and looked up at me as if to say, 'Thank God you didn't have to give me mouth to mouth!' and then ran off to play with his brother."
While this story ends with a happy ending, The Rock couldn't help but warn new and old dog owners about the importance of water safety.
"A few lessons I've learned today.. A) Not all puppies have the instinct to doggie paddle. B) Some puppies (like BRUTUS) will be so in shock by experiencing water they will sink extremely fast so react quick. C) While spiriting to save your puppies life, before you dive in, try and throw your cell phone to safety," he explained. "Don't keep it in your pocket... like I did. #BRUTUSLives #HOBBSCanSwim #MyCellPhonesDead #AndNoMouthToMouthNeeded #HappyLaborDay."
Watch Dwayne "The Rock" Johnson make a guest appearance on Total Divas this Tuesday at 9 p.m. only on E!