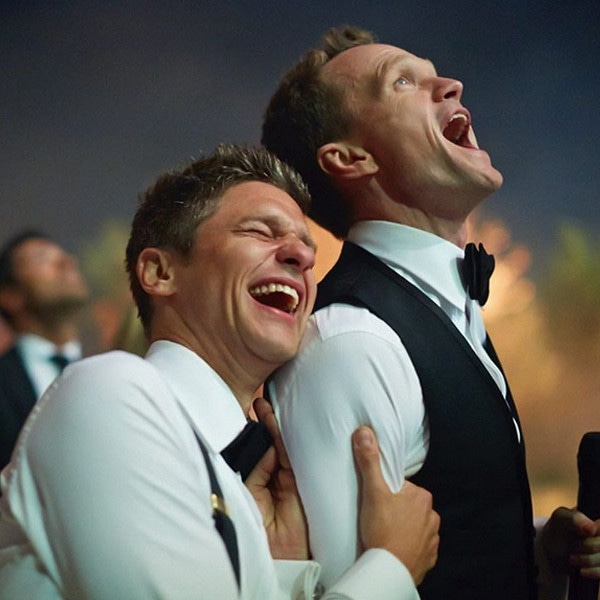 Instagram
Now this is the look of love!
It's hard to believe that it's been 12 months since Neil Patrick Harris said "I Do" to his partner David Burtka.
But in honor of the special anniversary, the former How I Met Your Mother star took to Instagram to celebrate the milestone.
"One year ago today I had the pleasure of marrying David Burtka," he wrote on the social media site Sunday afternoon. "I am so happy that I did—he's a truly wonderful man."
He added, "Here's to many more laughs and adventures…!"
Frazer Harrison/Getty Images
Traveling back to the romantic ceremony in Italy, guests including the couple's twins were treated to a performance from Sir Elton John. Soon after, the pair danced to Kelly Clarkson's hit single "A Moment Like This."
"It was nice. It was very small, intimate. Only 45 people were there," Neil shared on The View shortly after the big day. "I just wanted to be able to say nice things about David, to David, in front of the people who matter most to us…a declaration to share in front of our kids."
The Best Time Ever host continued, "I wasn't a crying mess or anything, but they're important words that need to be heard by the person that you're [marrying]...it was fun."
While Burtka is more quiet about his marriage, the actor and chef was able to gush about his husband during a vacation earlier this summer.
"Thank you to the most wonderful man @ActuallyNPH for taking me on a trip of a lifetime!!" he shared on Twitter. All the best you two!
Watch:
Will Neil Patrick Harris' Kids Watch the 2015 Oscars?