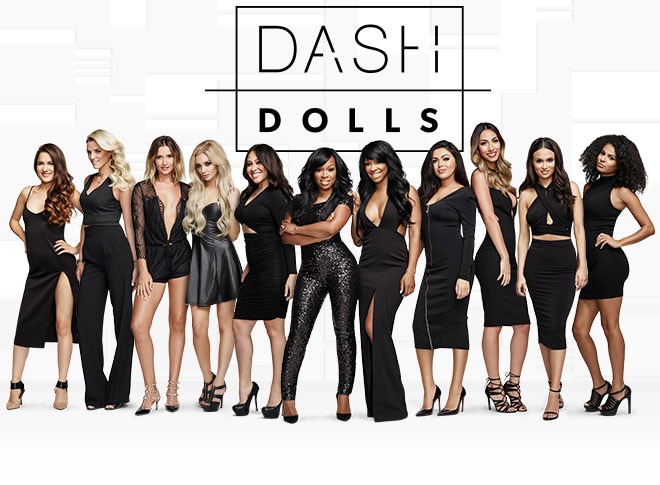 Hey dolls!
The Kardashian sisters may have built an impressive style empire with multiple DASH locations across the country, but who helps them run it? The DASH Dolls!
E!'s lastest reality series DASH Dolls takes us inside the lives of the lucky ladies who work with Kim Kardashian, Khloé Kardashian and Kourtney Kardashian at their West Hollywood store and represent their fabulous fashion company.
Khloe's BFF Malika Haqq and her twin sister Khadijah Haqq McCray manage the diverse group of glamorous fashionistas, who love to work hard and play even harder—just like their famous bosses!
Before the show's premiere on Sunday, Sept. 20 at 9 p.m., get to know the gorgeous cast!
Malika Haqq
Khloé's best friend and one-half of the twin Haqq sisters, Malika's position in upper management keeps the girls in check and at the top of their game. Although she can be rigid with her staff, she puts just as much pressure on herself as she tries to revamp her career as an actress and finally find a special man deserving of her love.   
Khadijah Haqq McCray
Khadijah is co-manager who has seen and heard it all. Wife and mother to three children of her own, she is often the sounding board to her team in the workplace. On a mission to revive her acting career alongside her sister twin Mika, she's at a crossroads and must decide between the basking in the limelight or meeting the demands of her busy family.  
Durrani Popal
Merchandising manager Durrani is a longtime employee who considers herself the ultimate DASH Doll. Her thoughts and actions often go unfiltered and as a result, she finds herself in conflict with many of her co-workers. On the constant search for Mr. Right, she has kissed many frogs but may have found her prince.
Stephanie De Souza
The youngest of the bunch, Stephanie is a dedicated sales associate who wants to get ahead but has a lot to prove. She's sometimes gullible, her bad-boy boyfriend often tests the limits of her love and devotion.
Caroline Burt
Sales associate Caroline moonlights as a DJ and can often find herself on the flip side of drama. Her old-school upbringing has bought out the wild-child in her and she is currently dating a budding rock star.
Taylor Cuqua
Part of sales support, Taylor is a party girl who lives life without boundaries. Although she tries spreading positive vibes at work and home, she quickly learns that living in a house full of girls can be more work than play.
Melody "Mel" Rae Kandil
Melody is a sales representative by day, but modeling is her true passion. She considers herself the "mother hen" of the troupe, but can overstep her boundaries in order to maintain the peace. Wanting to further her career, she often straddles the fence between giving into the pressures of the industry or living up to her strong moral code.
Mehrnaz "Nazy" Farnoosh
Nazy is assistant manager and Durrani's best friend. The two make a dynamic duo and can inadvertently give off "mean girl" vibes.
Jennifer Robi
Store manager Jennifer prefers the hands-off approach when dealing with the Dolls and often tells them to "figure it out." Newly engaged, she's blissfully planning her wedding and making all the girls re-think the state of their relationships.  
Alexisamor "Lexie" Ramirez
As DASH's sales coordinator, Lexi is one of the "OG" members of the crew. She currently has her own successful jewelry line and is using her position at the store as a stepping stone until her business takes off. 
Melissa "Missy" Flores
Media and marketing maven Missy is the one-stop shop for all things online.
Don't miss the premiere of DASH Dolls Sunday, Sept. 20 at 9 p.m., only on E!