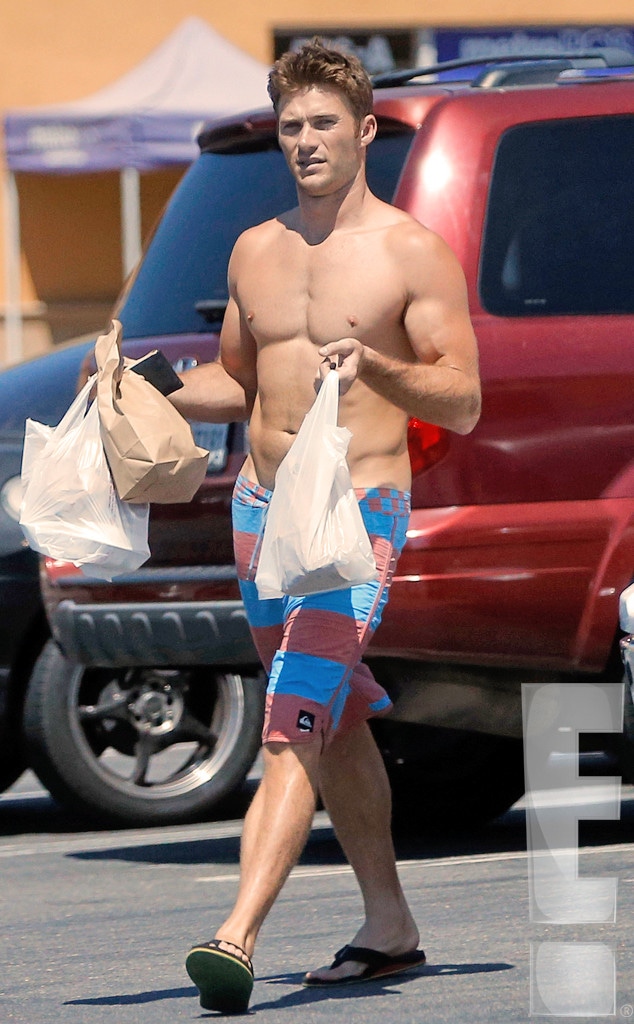 TC/Splash News
So. Much. Shirtlessness.
Actually, does Scott Eastwood even own a shirt? Who cares? He doesn't need to!
The 29-year-old Suicide Squad star put his buff bod on display Thursday afternoon in Oceanside, Calif.! Clint Eastwood's son, who recently starred in Taylor Swift's "Wildest Dreams" video, ran a few pre-boating errands shirtless before heading out to fish with some friends.
The hunky model-turned-actor picked up some ice and food before setting off on the bay. It looks like he might've been checking himself out in a gas station window, but really, who can blame him?
Scott (wisely) lathered up with sunscreen before heading out—and it's a good thing he did, too, because he and his buds were reportedly off on their fishing excursion for five hours!
It looks like the Longest Ride pals around with other buff dudes, so what's the secret behind those bods?!
"I get this question a lot," Scott told E! News earlier this summer at the Maui Film Festival. "[T]o me it's not one thing. To be really in shape, it's dynamic, it's got to be a lot of different everything, always switching it up. So a good day for me would be hit the gym, do some sort of cross training in the gym and then go surfing and then maybe take a jiu-jitsu class at night or go swimming at night or go stand up paddle boarding in the evening."
"So you're doing a lot of things with the body," he explained. "You're not just, 'Oh I went to the gym' and sort of half-assed it."
Scott's not the only actor taking fitness seriously, though—have you seen Ryan Phillippe lately?!
The 40-year-old(!) Secrets and Lies star flaunted his ageless physique on the beach in Cancun, Mexico. Ryan was vacationing with his girlfriend, Paulina Slagter, but feel free to, you know, just pretend it was you.
And just in case we haven't provided enough eye candy to get you ready for the long weekend, feast your eyes on Jason Momoa! The 36-year-old Game of Thrones star was snapped skateboarding shirtless in Hawaii. Lisa Bonet is one lucky lady!
That long weekend is almost here, everybody!