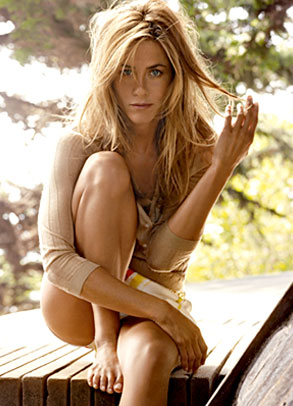 Craig McDean/Vogue
Dear Ted:
Why do people call Jennifer Aniston "Maniston"? At first I thought it was because she was dating John Mayer. But they broke up and I kept seeing her referred to as Maniston. Is it because she kind of looks like a man? I mean, she makes herself kind of cute but it isn't a great face.
—Alex
Dear Mangina:
On the nose. But there are oodles better nicknames to describe Jen. Whiniston would be my pick.
Dear Ted:
Is Moony Tuna from One Poochy Pathetic Blind Vice Charlie Sheen? And is Chubby Asparagus the guy from The King of Queens? Please tell!
—Amy
Dear 0 for 2:
Neither of these boob tubs are right. Moony is less present than Sheen is on the screen, while Chubby doesn't have a movie presence like Kevin James does. Not exactly. Also, wrong primary métier.
Dear Ted:
Is Oded Good-Head from One Unmanageable Blind Vice LL Cool J? He always seemed hot, but something's missing. At first I thought Jared Leto because it sorta fit but would totally kill all my fantasies about him. Pretty as he is, I think he digs chicks. Love you!
—Linny
Dear Getting Warmer:
You're so close on Oded dear, but wrong rapper. Love you back! So damn little of it these days, too.
Dear Ted:
Adore your column, retina-burning yellow and all. I've never written before, but finally now have a little stack of issues to address: First, Toothy Tile. Everyone knows who he is. Why are your lawyers making you stay so coy about it? You'd have a pretty damned strong defense in a libel/slander suit (you know, what with you telling the truth and all). Second, I'm really sorry about Prop 8. My mom is gay and although we don't live in California, she took it pretty hard. We'll get there eventually. You're a great role model and I hope you keep fighting the good fight. And third, I caught the Madonna concert in Denver this week. Good show, despite being 90 minutes late for no apparent reason. But I had to tell you—she had no fake accent. She sounded all American to me and my girlfriends. Interesting for her to dump the Brit husband, address and accent all at once, no?
—J-Dub