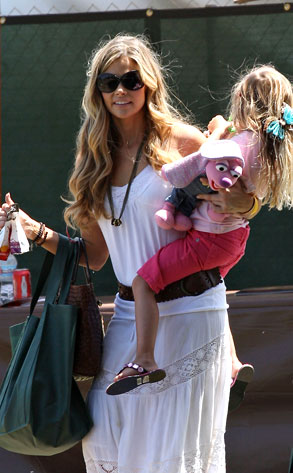 CR:Ghost/FamePictures
We yakked with Denise Richards at the P.S. Arts "Express Yourself" event in L.A. Sunday, where she had her kiddos, Sam and Lola, in tow. OK, so, question of the month, how ya feeling on Prop 8? "Um, well I definitely believe in equality," yawned Denise, before hitting an awkward silence. "I dunno what else to say about that."
OK, not as eloquent as Ellen or Clooney, but we guess believing in equality is better than nothing. Is Denise the only celeb on the planet who hasn't been asked this question a thousand times already?
D.R.'s been tabloid fodder for a while now, so she must have some expert opinions on her rag-mag peers. What do you think about the media—OK, us—putting fuel on the Angie vs. Aniston feud? Is Brad Pitt even worth all this fighting over?
"You know what?" sassed Denise. "Their life is none of my business. My life has been public, and I think everyone should mind their own business about people's relationships, to be honest. It's between them!"
So, you put yourself on TV—just like Ms. Jolie put herself in all those magazine interviews squawking about her love life—and the public is just supposed to mind its own business? Excuse us for not following this logic, which must be discernable only to the brilliant likes of Richards' James Bond character, nuclear physicist Dr. Christmas Jones.
In other words, don't put it out there in the first place if you can't stand all the attention it brings you, Doll-face. We're just surprised Richards didn't use our li'l chat as an opportunity to bash Charlie Sheen. This babe's full of surprises!
—Additional reporting by Taryn Ryder and Becky Bain