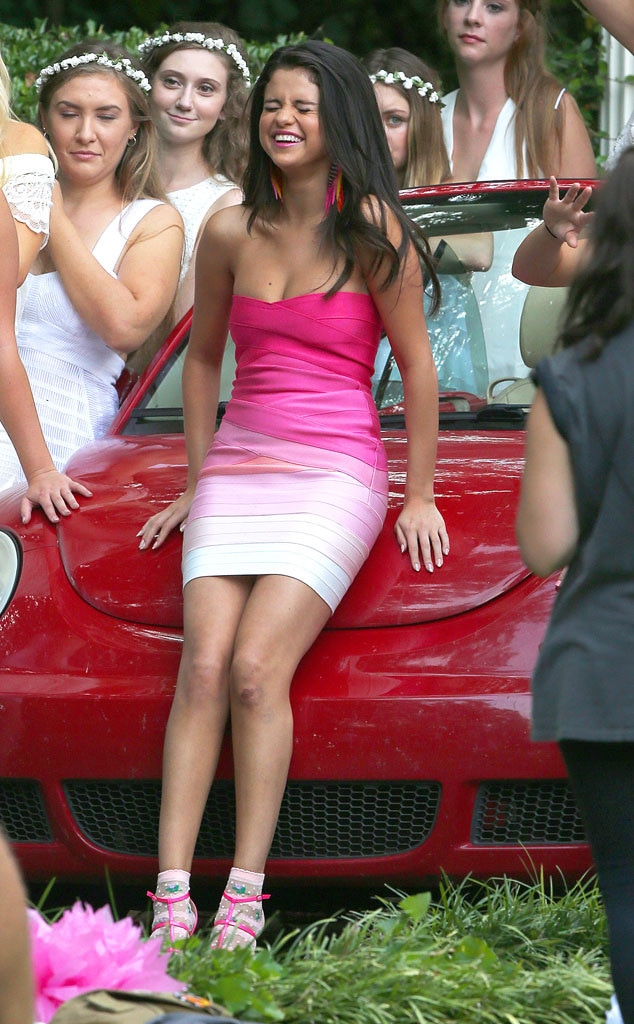 Turgeon / Splash News
Hey y'all, it's Neighbors 2 time already!
Can you believe it? It feels like only yesterday we were watching Seth Rogen try to do mushrooms with college kids and Zac Efron have a maybe-real coke-fueled fight on the big screen, and now the cast is already reuniting for the sequel. The whole gang (Seth, Zac, Rose Byrne) is back for Sorority Rising, joined this time by Chloë Grace Moretz and one very special guest pictured above.
That's right, ladies and gentlemen, you are looking at none other than Selena Gomez filming scenes on the Atlanta set. Which means...Selena Gomez has joined the cast of Neighbors 2. It was a sneaky move, what with her not getting an announcement and all, but we are far too sly to fall for production's trick. Or rather, the paparazzi stalking Zac on set are too sly to fall for production's trick.
But either way, the secret is out. The studio is keeping the plot of the sequel under wraps (very tight wraps), and no details have been released on anything, really. But we are master detectives, and we have compiled all the clues at our disposal to get to the bottom of this mystery once and for all. Follow along as we crack the case of Selena.
Let's start with what has been released. As we mentioned, all the major cast members from the first flick are returning, and thanks to the lovely final scene we know that Zac's character, Teddy, has indeed graduated college along with his BFF Pete (Dave Franco) and is kicking ass doing OK at his new gig as a shirtless Abercrombie & Fitch store greeter. That means that the family-versus-fraternity plotline is probably not going to happen, which would jive with the Sorority Rising portion of the title. (We told you...we're good at this stuff).
We also know, thanks to The Hollywood Reporter, that Chloë Grace Moretz is playing a member of a sorority. (It's all making sense.) Chloë is probably the leader of said sorority, given that she is blond and thin and there is an ironclad Hollywood rule that all leaders of fake movie sororities must be blond and thin.
That means that Selena is most likely not the leader of the sorority—partly because of said rule and also because it seems she may have been a last-minute addition to the cast (Moretz's role was announced back in April) and she is super busy with all sorts of Selena Gomez-type things going on in her life like buying leather crop tops and making secret appearances in Justin Bieber music videos. #Priorities.
Now let's move on to the visual clues. As you can see, dear Selena's part involves wearing bandage dresses and feather earrings and riding on the hood of what appears to be a VW beetle convertible while a bevy of ladies dressed in all white surround her. As all sorority sisters do at one time or another, right? 
So here's what we're going to conclude: Selena plays Madison, the sorority arch-rival and nemesis to Chloë Grace Moretz's Morgan. While Morgan may be the leader of the pack for now, Madison's got her eye on the prize—and she's gathering up able and willing soldiers as fast as she can. It's rush time at FMU (Fake Movie University), which means it's the perfect opportunity for Madison to put the feeler out for new recruits to help her topple the sorority president. She decides she needs to make an entrance—a big entrance—to garner as much attention as possible while all the new freshman are visiting the house.
And what better way to stage an entrance than through a song-and-dance number? She dons her finest neon bandage dress, gathers her army of sorostitutes (who just happen to have matching white dresses and flower crowns in each of their closets) and executes a flawless performance of "Come and Get It" while riding in on her Volkswagen carriage. 
Naturally, she is greeted by a bevy of adoring prospective sorority members, all eager to pledge their allegiance to the new queen. Chloë scowls in the corner, mentally calculating her revenge plot. But for now, it's Selena's world and we're all just living in it.
So how do Zac, Seth and Dave fit into all this? Who cares...this is the movie we want to see.