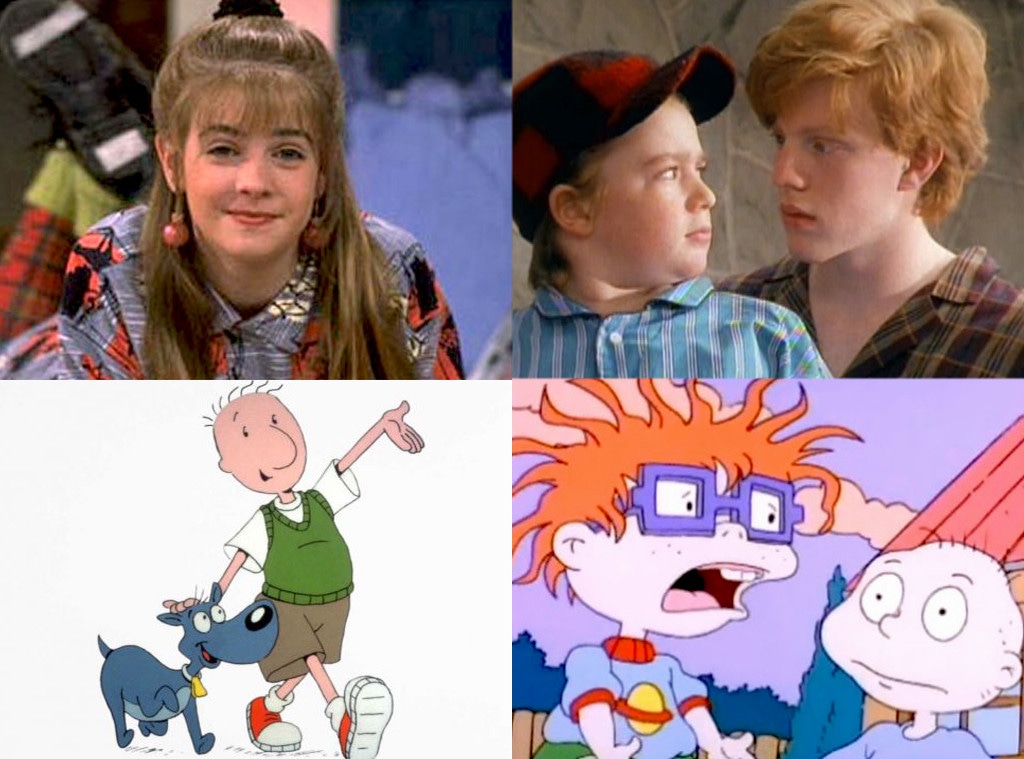 Nickelodeon
Nickelodeon is ready to stage the ultimate Throwback Thursday—the network is considering reviving some of its most beloved '90s series for modern audiences. That means you could see a rebooted version of Rugrats, another teenager explaining it all, or new kids climbing a bigger, even more mega Aggro Crag in the near future.
"We are looking at our library to bring back ideas, shows that were loved, in a fresh new way," Nickelodeon's president of content and development Russell Hicks said in an interview with Variety. "We are getting ready to bring back some of the ones they've told us multiple times they want to have brought back."
Hey, it worked for Degrassi! In honor of your favorite childhood shows potentially returning in new forms, E! Online rounded up a list of some shows Nickelodeon should definitely reboot for the 2010s—and ones the network should leave in the past. (To be honest, we have no strong feelings about Rugrats being revived or left alone...)
SHOULD REBOOT
The Secret World of Alex Mack—One of Nickelodeon's best live-action shows, Alex Mack should come back with the original cast. Maybe Alex is now a mom and she's passed on the powers: We never saw her take the cure! Give us a TV movie reunion that could set the stage for a new series.
Doug—Doug is classic, Doug is universal. This could be a reboot or even a sequel, whatever, just as long as Orange Is the New Black's Constance Shulman is back as Patti Mayonnaise.
Hey Arnold!—Like Doug, Hey Arnold! could easily be picked back up with the characters un-aged…or with them in new stages of their lives.
Aaahh!! Real Monsters—One of the quirkier Nick shows, Real Monsters could also go either way with a sequel series or reboot. Just make sure Krumm is back.
Clarissa Explains it All—Clarissa and Melissa Joan Hart are so tied together for audiences, it would be hard to do this as a reboot, but we certainly want to know what she's up to. Where's Sam? Is Ferguson still the worst? BRB, going to start the fan-fic on this, actually…
Double Dare—Listen, people getting slimed and going through obstacle courses where they have to pick giant noses and slide into pools of unidentified substances is a timeless concept. Heck, Marc Summers is still as affable as ever hosting Unwrapped on Food Network, so he could come back too—they don't actually need to change anything at all.
Legends of the Hidden Temple—Think of all the advances that have been made in technology since this beloved game show aired! Keep the talking foam rock and frightening Temple Guards, but update this baby!
The Mystery Files of Shelby Woo—Teen detectives are a popular genre for a reason (paging Veronica Mars!). Think of all the great detective work new Shelby could do now that she has the Internet!
Rocko's Modern Life—Don't change a thing and just give us more Rocko, one of the more adult cartoons from back in the day.
Are You Afraid of the Dark?—Horror anthology series are all the rage these days. A kid-friendly version of AHS would probably attract a lot of scaredy-cat adults, too!
Guts—Do-do-do-do you have it? Much like Double Dare, this American Gladiators-for-kids competition show would need very little updating. Plus, the LED effects on a modern-day Aggro Crag would look SUPER cool.
All That—Saturday Night Live is 41 seasons in and going strong, so it's clear sketch comedy isn't going anywhere. The original All That produced long-tenured SNL star Kenan Thompson, so why not revamp the series with a new generation of actors?
SHOULDN'T REBOOT
The Adventures of Pete and Pete—This show is way too classic to be touched. Leave us with baby Michelle Trachtenberg, thanks.
CatDog—One Nick's most annoying cartoons should 100 percent be left in the past.
Cousin Skeeter—Ugh. No thanks.
Figure It Out—They tried to bring this back—without Summer Sanders and Lori Beth Denberg, mind you—and it felt too dated. Besides, the talents were never really talents.
Salute Your Shorts—This relic of the '90s could never be re-booted without messing with its legacy. You can't improve upon such a beautiful time capsule of a show.
Roundhouse—This variety show might've been awesome at the time, but looking back, it doesn't exactly hold up. All That had a very same vibe, so let's focus on that one instead, okay?
Rocket Power—Do people still like extreme sports? Leave it alone.
What Nickelodeon shows would you like to see updated for present-day audiences? Which ones shouldn't the network touch? Sound off in the comments!
Watch:
Melissa Joan Hart's On-Set Romance