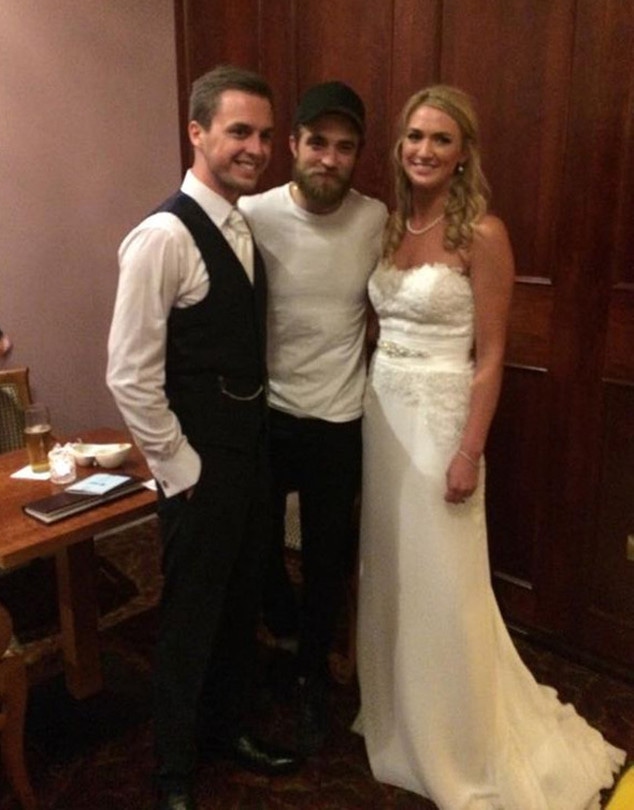 Instagram
Robert Pattinson was in Belfast, Ireland, when he agreed to crash a wedding!
The Twilight star happened to be grabbing a drink at the bar of the Culloden Hotel when wedding guests, who were there to celebrate Tom Lenihan and Sarah Lenihan's nuptials, spotted him. According to reports, about 20 bridesmaids mobbed Pattinson and got him to take photos with them; he then graciously also posed for a picture with the bride and groom.
The heavily bearded actor is in Ireland filming his new movie The Lost City of Z, based on the true story of British explorer Percy Fawcett, who disappeared in the Amazon rainforest while searching for an ancient lost civilization.
It's funny timing that Pattinson should stumble upon a wedding, as he and FKA twigs are planning their own! He and the musician got engaged earlier this year after a whirlwind courtship. A source dished to E! News that the couple want a very "low-key" reception instead of anything over the top.
Our insider also revealed that Pattinson is letting his fiancée plan the whole affair, while he just tries to make her feel as "comfortable" as possible as she gets used to the fame that surrounds their relationship. The duo, who have moved quite quickly since they first started dating, might even be considering having kids!
The Remember Me star reportedly told German fashion mag Jolie recently that he could "imagine becoming a father."
"Definitely, although I still do not know when. Therefore I was so attracted by the role in Life. At my age, you do not get so many chances to play a father—and certainly not one who leaves his family in the lurch."
He added, "Personally I imagine it different, of course."
In the meantime, congratulations to the newlyweds who are the envy of all Twihards this morning!
Watch:
Robert Pattinson Is More Than Just an Actor!