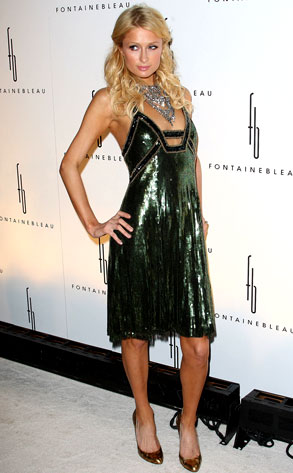 Alexander Tamargo/Getty Images
Paris Hilton, gettin' stylish at the Fontainebleau hotel in Ef-Hell-Ay for the Victoria's Secret fashion show. Hilt-hon donned a shimmery green frock for the fashion fete, while our fave sandy snoop, Martin Haro, asked Pare-poo about her role in the new Todd Solondz flick.
It's a sequel the director's 1998 movie Happiness, right, Par? P.H.'s response: "I'm not sure." Uh, didn't you receive a script, babe? Or was Benji so exhausted from schlepping out with you every night that he was too tired to read it to you? Elsewhere at the event looking (and acting) oh-so elegant was...
Sofia Vergara, wearing white and some trendy Fendi shoes. Martin, God love him, wanted the Colombian babe to elaborate on what she meant when she called her pre-Katie romancer Tom Cruise "raro"—Español for "weird"—a few years back. Sheepishly, Sof replied, "I call myself weird, weird, no one else. I don't remember saying that." That's weird...because we do. Looks like somebody got paid, one way or another, by Camp Cruise. Much more open-mouthed was...
Michelle Trachtenberg, on the pink carpet, looking stunning in a black Herve Leger dress, which Max Azria gave to her himself, the brunette beauty dished. Mich said she needs to hit the gym really hard—"I got a booty!" Do all stick-thin actresses think this psychotic way? Beyoncé's got a booty, hon, not you. And there's nothing wrong with having one. One fella slinking fine just the way he is was...
Josh Lucas, dapper in a blue suit, accompanied with a shaggy-haired amigo who was wearing the exact same outfit. Uh-oh, who's gonna go home and change? Lucas swore the doppelgänger getup was "By accident! It's f--king horrible! I wore this suit once three years ago, and I brought it to Miami because it was clean." Joshy-poo laughed, but was clearly mortified by his redundant fashion choice. Glad to know it's not only the gals who crap out over that silly stuff.