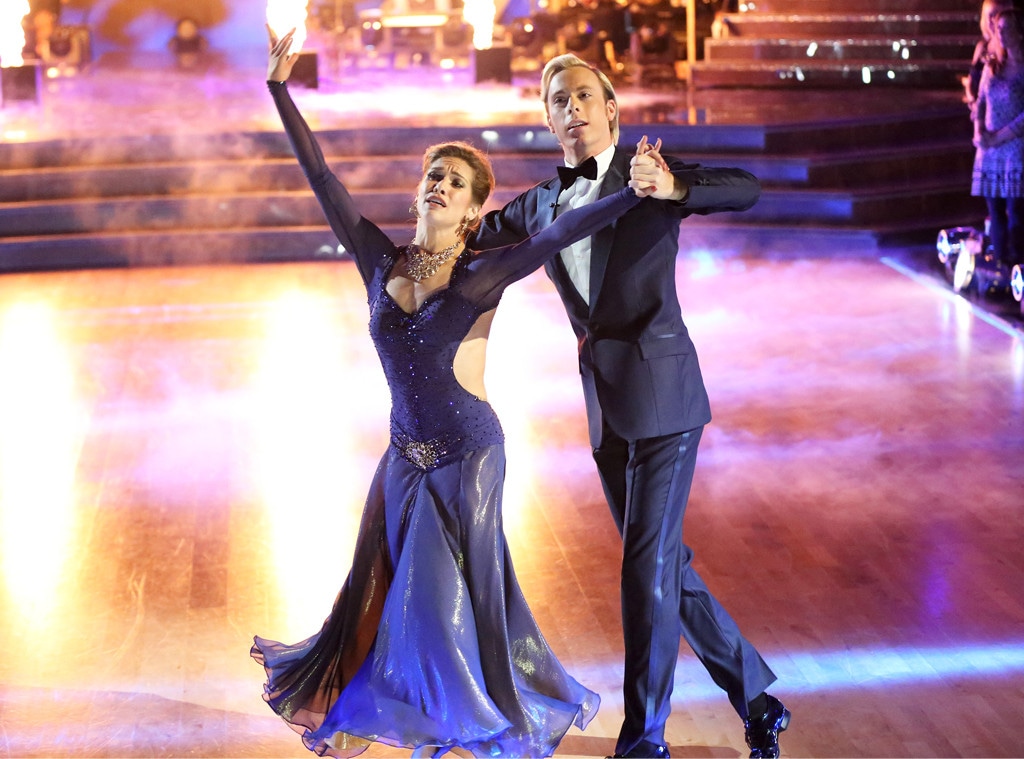 ABC/Adam Taylor
Forget back to school, it's almost time to head back to the ballroom.
Dancing With the Stars is set to officially unveil season 21's full cast of celebs and dancers on Good Morning America on Wednesday. And just as exciting as the line-up of celebs? Finding out which of DWTS professional dancer they are paired with!
But how does the show decide on the 12 couples prior to each season? We got the lowdown on the process from showrunner Rob Wade and casting director Deena Katz, with fan-favorite pro Mark Ballas also weighing in on the pairing process.
"It's based on height, build and personality and compatibility," Wade tells E! News. "We don't pair people who aren't going to get on. It's too intense. It's not like The Bachelor or something, we couldn't do that. That would just be miserable experience for the celebrity, for us and the viewer. You don't want to see two people who don't like each other and, quite frankly, we have made that mistake pairing people up who didn't get on so well."
Mark Ballas, who says the dancers "don't get a say in their partners," echoes Wade's sentiment, telling us, "They pair us on height and size, so it feels comfortable for the women and vice versa for the women when they're dancing. They also try and make us compatible based on personality, and what they think will work well. Each one of the pro dancers has a different way of teaching, choreographing, and also just different personalities, as well as time-stamps on patience. They kind of try to pair us accordingly."
And just because the pairs get along, it doesn't mean DWTS there won't be clashes, with Katz explaining, "There's still the drama. There's still the fights about their cha-chas that are silly."
Now that many of the professional dancers have become household names, with some of them more famous than their star, Wade likes to find celebrities that will show a different side of longtime cast members.  "You also want to give the viewer something different, there's some things that you just want the viewer to see a different side," he says. "So when we put Peta [Murgatroyd] with Tommy Chong, it was really the best thing for her because we saw a whole new side to her. So you want to see the different dynamics of the dancers."
Some viewers have noticed a trend in pairings, with Tony Dovolani often getting the older female celebs (he was recently paired with Suzanne Somers and Betsy Johnson), Ballas getting the youngest (think Sadie Robertson and Willow Shields) and so on. But Wade says it's not intentional, saying, "Every dancer gets a different range of type of people…and then they say they only get those people." Wade acknowledges that some of the dancers may have picked up on some pairing trends, saying, "The hindsight is always very 20/20 for the dancers, but actually, they get a variety of different people!"
But Ballas agrees with Wade, saying, "I have done 17 seasons, and have only had three young partners. I think it's just because I had Willow and Sadie back to back, and then Shawn [Johnson]. I had Kristi Yamaguchi, Candace Cameron Bure. I've had Kim Kardashian. I guess you could say I have been the stereotype for having young partners the past two years."
So will the stereotype end in season 21? We guess we'll find out tomorrow, with Ballas teasing, "It seems like it's going to be an interesting one!"
DWTS premieres Monday, Sept. 14 on ABC.
—additional reporting by Lindsey Caldwell
Watch:
Caitlyn Jenner Joining "Dancing With the Stars"?