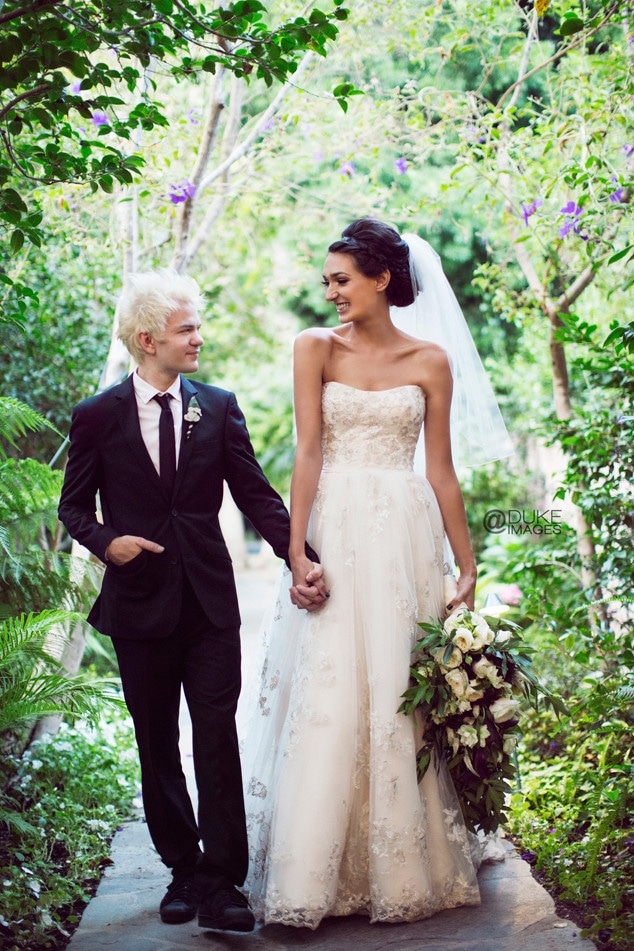 Duke Photography: www.dukeimages.com
Deryck Whibley is a married man! 
The Sum 41 rocker tied the knot with Ariana Cooper on Sunday in Los Angeles, E! News confirms. 
A source tells E! News that the two exchanged vows in front of 100 of their closest family and friends at the Hotel Bel Air. Guests dined on a four-course meal catered by Wolfgang Puck and carefully selected by Deryck before later noshing on doughnuts for a fun midnight snack. 
The insider adds that it was a traditional ceremony, complete with a strings trio that played "Happy Together" when they were pronounced husband and wife.  
Duke Photography: www.dukeimages.com
Following the I-dos, guests entered the reception to the tune of Metallica's "Enter Sandman" and the newlyweds had their first dance to Frank Sinatra's "Cheek to Cheek."  
The couple also enjoyed an apple cider toast when they cut the cake (guests were served champagne, but the newlyweds are sober) at their wedding, which was planned by Christine Zohrabians with Fancy That! Events.
"Their love for one another is contagious. They spent the day smiling and giggling and set such a comfortable tone for the wedding," Zohrabians said, adding that the lovebirds were "such a pleasure to work with." 
The nuptials come over a year after Whibley collapsed in his living room and was rushed to the hospital, where doctors told him he was suffering from severe organ failure and had almost died due to alcohol abuse.
"There are so many exciting things now. So many things are new for me. I'd never done anything sober," he told Vice of his sobriety in April 2015. "I've been a hard partying drinker since I was 17 and on tour all the f--king time, never taking a break. Now there's this whole world out there and things I'm realizing I've never done. I wouldn't say I missed out on anything, just more like, things were set aside until this point in my life." 
This is the second marriage for Whibley, who was previously married to Avril Lavingne from 2006 until 2010. 
Congrats to the happy couple!