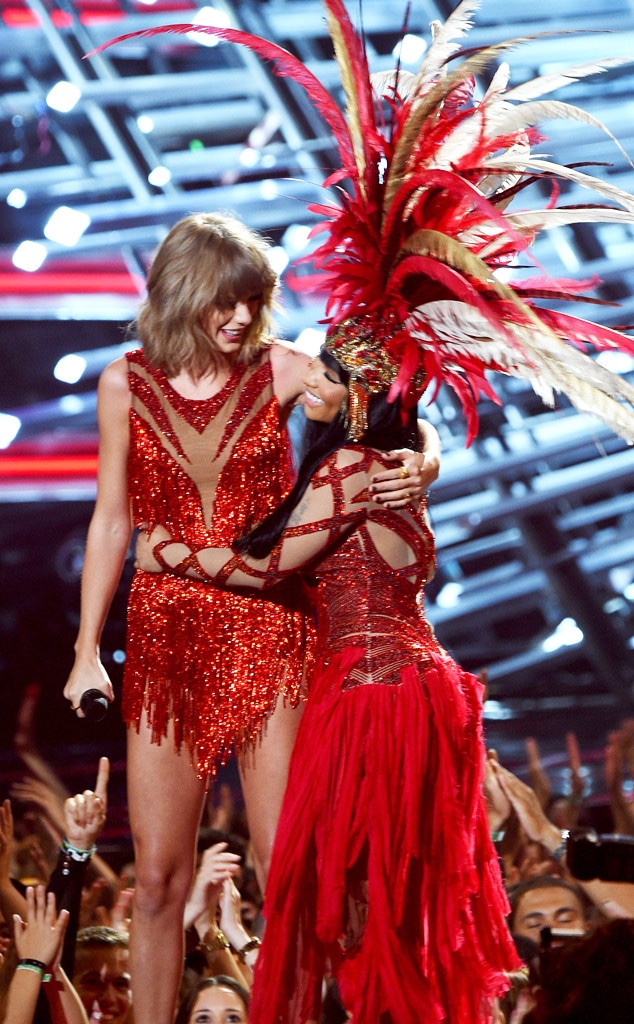 Kevork Djansezian/Getty Images Images
Ahh, the 2015 MTV VMAs didn't disappoint. Feuds were put to rest, and feuds were enflamed. Stars chose to wear outfits, and some chose to go nearly naked (ahem Miley Cyrus). It was everything you ever wanted and more from the annual awards show!
Taylor Swift and Nicki Minaj proved to fans that they are getting along just fine following that whole "Bad Blood" nomination debacle, as they took to the stage to perform "The Night Is Still Young" and a bit of "Bad Blood." As for Nicki and Miley Cyrus? That's still very much a fight.
Nicki called the awards show host a bitch onstage, but Miley was just being Miley and brushed it off. Don't think these two are going to be besties anytime soon...
Miley kept things interesting throughout the night, changing her outfit basically every time she appeared on camera. She opened the show in a sequined jumpsuit and got progressively more naked from there on out. 
Frederick M. Brown/Getty Images for MTV
The real winner of the night, though, was Kanye West. Kanye pulled a T.Swift and danced his butt off throughout The Weeknd's "Can't Feel My Face." Then he alluded to his famous interruption of Swift's acceptance speech all those years ago when he pretended to run after her when she accepted her award for her "Blank Space" video. Don't worry; he let her finish this time! Then, in a twist of all twists, Taylor ended up presenting the "Jesus Walks" rapper with his Video Vanguard Award!
"Something that you may not know is that Kanye West's album, College Dropout, is the very first album my brother and I bought on iTunes," Swift shared with the crowd. "I have been a fan of his since I can remember...because Kanye defines what it means to be a creative force..."
But the best part of Taylor's moving speech was when she said this: "I'm really happy for you and Imma let you finish, but Kanye West has had one of the greatest careers of all time." She then called him "my friend."
Kevin Winter/MTV1415/Getty Images For MTV
Kanye's acceptance speech, which took place after about 10 minutes of applause, was somewhat all over the place, but included apologies to those he offended over time. And then he insulted Justin Timberlake. And then he said he's running for president in 2020. Like we said, it was all over the place.
Other notable moments included Demi Lovato's first-time performance at the VMAs, which she did from downtown Los Angeles. She performed "Cool for the Summer" in a skimpy ensemble and got pretty sexual with it. Welcome to the VMAs, Demi! But Justin Bieber proved he had more emotions than anyone in the building, as he cried onstage post-performance.
Sure, it was his grand return to the VMA stage, but really it was his grand return to humanity, civilization and a giant goodbye to his bad boy image. He slayed "Where Are Ü Now" and his new single "What Do You Mean?" We belieb, Justin. We belieb.
Pharrell also performed outside of the Orpheum Theater, singing his new single "Freedom," before Ice Cube and his son, O'Shea Jackson Jr., presented the award for Video of the Year, which went to "Bad Blood." When she accepted the moon man she brought her squad, which included Mariska Hargitay, onstage to thank everyone. Seconds later the world got a view of Miley's boob. Classic, Miley!
The night ended with a performance by Miley herself, who thrusted all over the place. who declared she loves to smoke pot. She was accompanied onstage by drag queens who sang with the Hannah Montana alum about loving marijuana.
What did you think of the 2015 VMAs? Sound off in the comments below!
Don't miss the highly anticipated return of Fashion Police tomorrow for the VMA special at 8/7c featuring hosts Melissa Rivers, Giuliana Rancic, Brad Goreski with special guests NeNe Leakes and Margaret Cho!