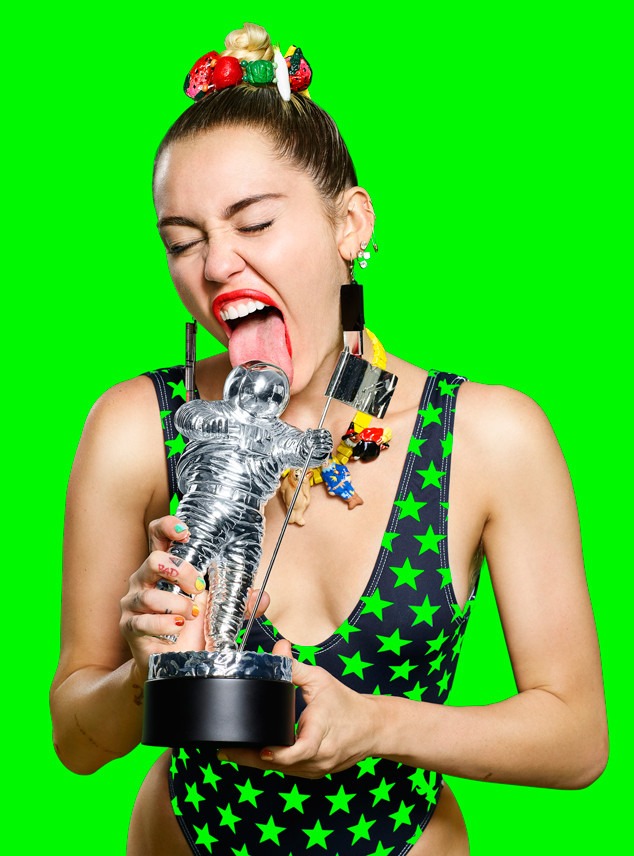 Viacom
It's finally time for the most unpredictable awards show of the year.
We know, you've heard that before when it comes to star-studded shows. But at tonight's MTV Video Music Awards, we really aren't quite sure what to expect.
Yes, Miley Cyrus is hosting and there will be a delay just in case she does something a little cuckoo. There's also the unpredictable fashion we can't wait to see on the red carpet.
But behind all of the shock and awe, some of the most talented musicians in the industry will be recognized for their skills on and off the stage. Take a look at five big moments we can't wait to see tonight from Downtown Los Angeles.
1. Prepare for Yeezus: Kanye West is about to get one of the best awards of all time...well sorta. The "Black Skinhead" rapper will receive the Michael Jackson Video Vanguard Award Sunday night. Previous recipients of MTV's highest honor include Beyoncé, Justin Timberlake and Madonna. While the presenter has yet to be announced, we're all secretly hoping for a Taylor Swift appearance.
2. Hostess With the Mostess: Anything can happen when the "We Can't Stop" singer gets behind the mic. The 22-year-old will serve as host and we can likely count on barely-there outfits, profane language and maybe some tongue wagging? "We have [planned] a lot of wide camera shots and a lot of audience reaction shots. And we have a delay so we're prepared for her," executive producer and outgoing MTV president Van Toffler told Billboard Thursday. "She feels like the perfect host."
3. Comeback King: Just days after his new single "What Do You Mean" hit the radio, Justin Bieber is set to wow MTV audiences with a performance of the track as well as the official music video release. "It's actually perfect for summer, even though summer's just ending," the Biebs told Radio.com. "I had the best time recording it; I had the best time recording my album."
4. Taylor's New Love: In addition to Bieber's new music video, fans will get to see Swift's latest masterpiece with the one and only Scott Eastwood. Based on the short (but so sweet) teaser, the "Wildest Dreams" music video will feature a whole lot of romance. "Amazing working with @TaylorSwift13," Eastwood teased on Twitter over the weekend. "I'm proud to call you a true friend. #RockStar #WildestDreamsMusicVideo."
Joshua Blanchard/Getty Images
5. Stage Is Yours: For those who just want to hear some good music, you're in luck. Nicki Minaj is set to open the live show while Nick Jonas will perform his new single "Levels" for the first time during the MTV pre-show. Demi Lovato, Pharrell Williams, Tori Kelly, Macklemore and The Weeknd will also take to the stage.
Don't miss the highly-anticipated return of Fashion Police this Monday for the VMA special at 8/7c featuring hosts Melissa Rivers, Giuliana Rancic, Brad Goreski with special guests NeNe Leakes and Margaret Cho!