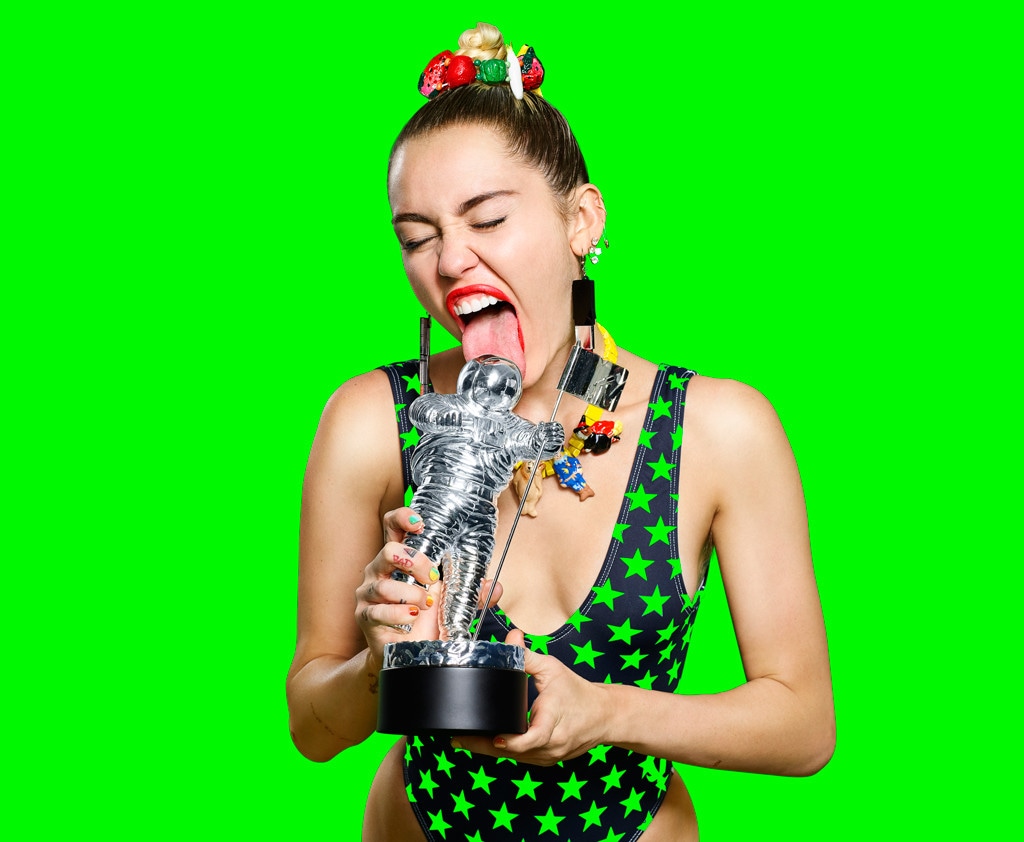 Viacom
Miley Cyrus killed Hannah Montana using a potent combination of sexuality, foam fingers and marijuana. And it happened right in front of our eyes.
Her transformation began exactly two years ago, when she caused international outrage by twerking her butt off against Robin Thicke's crotch during the 2013 MTV Video Music Awards. The performance came across as desperate, a suggestion that she was willing to do anything to break free from the shackles of her Disney-sweetheart alter ego.
But two years later, as she gears up to host tonight's VMAs ceremony, we know how wrong we were. It has become remarkably clear that Miley is much smarter than anyone initially gave her credit for.
She may have stuck a fork in Hannah Montana that night, but she reinvented Miley Cyrus.
Here are five things we're loving about Miley 2.0:
Ethan Miller/Getty Images for Clear Channel
She Outwitted Her Critics:
For a while, Miley's spree of candid marijuana talk, twerking and tongue-wagging gave the impression she needed to come with a permanent NC-17 warning. And we weren't the only ones who thought so. In her recent New York Times interview, Miley admitted: "People that I really loved and thought were my friends judged me for it. They were like, 'You were on drugs when you did that performance.' I did nothing! I still don't get it."
But Miley decided to use the harsh response to her advantage: "I knew who I was, and I knew the power that I held, but I don't think I realized my full power until that show," she told the NYT. "I didn't realize I could make such a big reaction. I didn't think that many people would care. I knew I was famous, but I didn't know what that meant. Everything was coming to an end and starting a new beginning. In every way."
A friend of Miley's explains to E! News, "She has a big picture view of everything. It's all perfectly planned out. She is very aware of what she is doing and how it's going to be perceived publicly. She knows her own mind very well."
She's 100 Percent Comfortable in Her Own Skin (and Nothing but Her Skin):

When Miley posed for her Paper Magazine cover shoot in June, you'd be forgiven for thinking she was just trying to copy Kim Kardashian (who memorably attempted to #BreakTheInternet with her oiled-up derriere). The reality is, Miley's shoot was worlds apart. Her choice of prop (a snorting farm animal rather than a burst of champagne) aside, there was a deeper meaning to it.
She sometimes wants to look a mess. Rather than try to be traditionally sexy, she covered herself in grubby mud. The message is clear, even if the choice of body paint is not: I am comfortable with me and I don't give a s--t what you think.
It was quite refreshing, considering we live in a world where we are constantly bombarded by picture-perfect celebrities, whether it's Taylor Swift dressed impeccably every time she leaves her apartment or Reese Witherspoon working out without a bead of sweat on her brow.
"She's very real," says a Miley source. "She doesn't aspire to be a pretty princess. That doesn't matter to her. It's more important to be authentic."
Larry Busacca/Getty Images
She Knows Her Worth When It Comes to Love:
When Miley started dating Patrick Schwarzenegger, she unwittingly became a half of the hope for a Brangelina 2.0, young-Hollywood edition. Here was the bad girl snagging the clean-cut good boy. It was an unexpected union and they looked hot together, Miley being an entirely worthy member of the political dynasty and yet someone who might raise a few eyebrows among the Kennedy set.
But six months ago, Patrick was snapped living it up a little too much with bikini clad members of the opposite sex while on spring break and the dream romance unraveled fast. Miley had enough self-confidence to know she could do better. Patrick denied engaging in any inappropriate behavior on his vacation, but...why would Miley want to even lose a night's sleep (or, better yet, a night's partying) wondering?
"She learned her lesson from previous relationships," says a friend. "Now she has a better sense of what she needs and who she deserves." Not to say that Miley's self-absorbed. "Far from it," the friend added. "It's just that she has learned to really value herself and expects the same from the people around her."
Damn straight!
Since that very public split, Miley has been linked to various people, including Victoria's Secret model Stella Maxwell. Miley told Elle UK: "I'm 22, I'm going on dates, but I change my style every two weeks, let alone who I'm with."
She Gets Off Her Ass and Gets Out There:
And we don't just mean she works out to maintain her ridiculous bod. At the 2014 VMAs, Miley ditched the foam finger and used her new platform to take a 22-year-old homeless man with a troubled past as her date. And when she won Video of the Year for "Wrecking Ball," it was Jesse Helt who took those tentative steps up to the podium to accept the award on her behalf.
Rather than just walk a red carpet or lend her name to something, she knows the real power of her fame and how to share it. Earlier this year she launched the Happy Hippie Foundation to help homeless, LGBT and otherwise vulnerable young people who need support to get back on their feet.
Says our source: "She is incredibly socially conscious, more so than her peers. She really does know how famous she is. Not in an egotistical way, but she knows she has a voice and is in a privileged position."
Miley is determined to use her fame for a deeper purpose. And while most of us do not have the platform she has, she is inspiring. "If I'm going to be noticed by this many people, what am I really going to say?" she explained to the NYT about her metamorphosis. "What I want to say isn't 'shake your ass.' But even if you listen to 'Can't Stop,' it isn't how I'd say it now, but it is still saying the same thing: 'I'm going to do whatever I want.' Now I know how to say that in my own words, not just in the way that's a hit."
Rocstar/FAMEFLYNET PICTURES
She Can Be Anything She Wants to Be:

Miley is the new normal. Or should be, at least. In her Paper interview, she was very clear about who she is and her philosophy that anything goes. "I don't relate to being boy or girl, and I don't have to have my partner relate to boy or girl," she said.
Instead, she describes herself as pansexual, meaning she's open to wherever her attractions lead her, regardless of sexuality or gender identity. By being honest about who she is, she is hoping she can encourage others to do the same and she's helped blaze the trail for others to do the same. She's teaching her generation that you don't need a label to have an identity and she's leading by example.
Overall, Miley is redefining what it means to be a celebrity. She is the opposite of the seemingly perfect role models like Taylor. She's raw and in your face. She doesn't have a slew of supermodel girlfriends, and she doesn't always look perfect. Her Instagram feed stands out: There are no touch-ups, her camera angles and lighting can suck. She is more interested in inserting random pictures of pizza, making her own memes and showing off the underarm hair she sports from time to time.
Growing up is hard enough, but doing it in front of the world is far harder. Two years ago, we misinterpreted Miley. We believed her outrageous behavior was a sign of being out of control. But ultimately she was more in control than we could have imagined.
And if you aren't convinced yet, prepare to eat your critical words because the pot-loving rebel who wears pasties on Jimmy Kimmel Live! is on course to become one of the most influential leaders of her generation.
She will not be stopped.