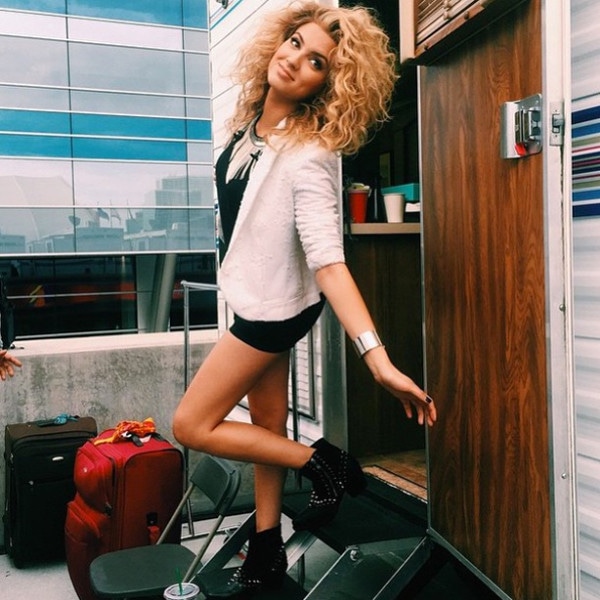 Instagram
Tori Kelly is on fire!
The spunky, fun-loving and insanely talented musician is hitting the MTV Video Music Awards stage for the first time on Sunday. E! News caught up with the 22-year-old singer-songwriter at CoverGirl x MTV's Got You Covered: A Beauty Trends Forecast & Celebration to chat about her VMAs appearance and the journey she's been on since she started posting YouTube videos when she was barely 14.
Here's why you should be getting excited to see her perform tonight!
Just a Matter of Time: Her debut album, Unbreakable Smile, has been 10 years in the making! Some may be seeing Kelly for the first time and assuming she was an overnight success, but that's hardly the case. The California-born cutie told E! News that having her first studio album out this year was "such a personal accomplishment I've always wanted to do, since I was a kid."
She's Weathered the Storms: She has had to be resilient as she waited to see her dream come to life, and the struggle has been what's made her songs so real, honest and relatable. She confessed on the day her album came out in a YouTube video, "I gave up a few times, and now the albums out and its No. 1. So, I'm really overwhelmed."
After years of hard work, writing, and performing, Kelly says, "My dreams are coming true. This is crazy!" For those who might be in a rut similar to the hone Kelly once found herself in, she tells E! News, "If you don't write, then definitely try, because that's what got me through, was the fact that every time [something] messed up happened, when I just wanted to give up, I had to no choice but to vent through music."
The "Nobody Love" singer said tough times made her stronger. "Even in the moment it sucked, I realized that those were the songs that made me a better writer, and were songs that I could relate to most," she explained to us. "So, I think letting it out in some way definitely helps, and just finding your niche, and not comparing yourself to people, and really honing in on what you know you're good at—and don't look at what everyone else is doing."
Her Mash-Ups Are Insane: The blond bombshell, who began her career by uploading videos to YouTube, continues to rock covers in her own videos, and in honor of her upcoming VMAs performance, she celebrated by uploading an acoustic mash-up of TLC's "Waterfalls," Aaliyah's "Try Again," NSYNC's "It's Gonna Be Me," Beyoncé's "Crazy In Love," and Justin Timberlake's "Lovestoned/I Think She Knows."
She's the Reali$t: Kelly isn't shy about being herself and is refreshingly authentic. The wise-beyond-her-years musician said, "It's so much more rewarding to know that you're staying true to yourself, even when people kind of look at you funny…even if it's awkward in the moment, if you know you're staying true to yourself, you walk away from it like, 'OK cool, somebody felt something from that, or that will make them think.'"
She's also not afraid to laugh at herself. Kelly recently joined YouTube star Miranda Sings for a hilarious cover of Taylor Swift's "Bad Blood."
Practice Patience: No doubt Kelly will kill it on stage at the MTV VMAs. It's been a crazy, whirlwind year for the artist, who can count Sam Smith and John Legend as fans, with the "All of Me" singer saying that Kelly was the "vocal performance of the night" at the 2015 Billboard Music Awards.
Kelly opened up to E! News on what she'd tell herself from five years ago if she could: "I would tell myself 'be patient, because now isn't your time.' I just wanted to get out there and live out all my dreams. I'd tell myself, 'You still have a lot to learn, don't rush anything, when the time is right you'll just know.'"
The 2015 MTV Video Music Awards, being hosted by Miley Cyrus, are on tonight at 9 p.m. on MTV. Besides Tori Kelly, obviously, Who else are you excited to see on stage?!
Flashback! We caught up with Tori Kelly at her secret SXSW show: