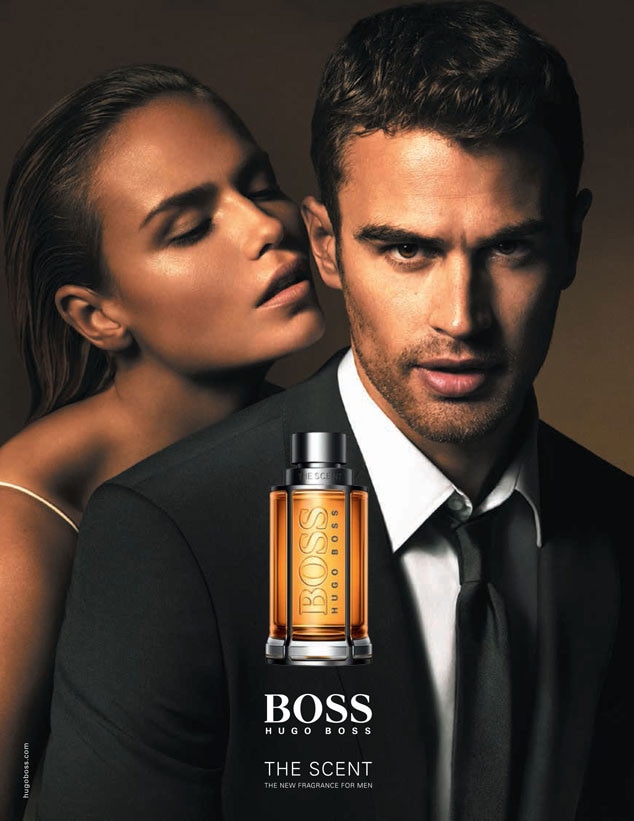 Hugo Boss
If looks are any indication of scent, then we know this for certain: Theo James' Hugo Boss cologne just became the sexiest-smelling fragrance on the market.
We of course already knew that the 30-year-old actor was set to star in Hugo Boss' campaign for the luxe brand's newest fragrance addition, Boss the Scent. Even with only one sneak peak of Theo's ads, we had a strong indication that the pics were going to be nothing short of steamy. But holy smokes—these ads are even better than what we imagined.
Flashing the camera a smoldering stare, the Divergent star channels his inner heartthrob for one standout shot, as a glowing model Natasha Poly, who you may remember as best dressed from the CFDA Awards, leans in to whisper something in his ear. Or, you know, to get a whiff of that irresistible cologne.
In a few exclusive behind-the-scenes shots, the actor swaps several outfits while posing for the campaign. Really, it doesn't matter if the actor is hanging out in a casual black T-shirt or bundled up in a sharp winter coat—he always looks (and smells, we imagine) mighty fine.
Joining the ranks of Hugo Boss fragrance alums Ryan Reynolds and Gerard Butler, Theo had some big shoes to fill with these debut ads. And fill 'em, he did—these snaps are hella handsome. 
Watch:
"Insurgent" Stars Talk "Bad-Ass" Sequel at Premiere